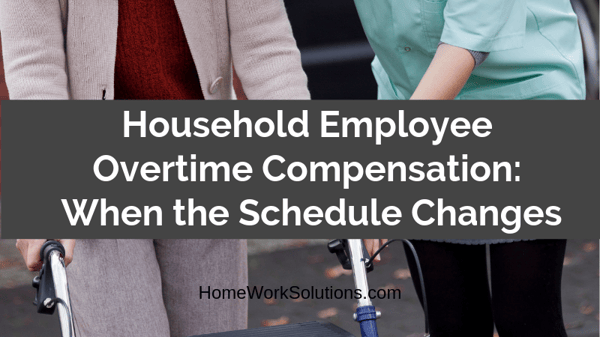 Planning a vacation requires putting together a variety of different details: hotels, rental cars, airline tickets, and more. But if you have a loved one that requires caregiving assistance and you will be gone for an extended time and will not be able to check in in-person from day to day, you will also need to plan on getting coverage in your absence. This might mean that the caregiver will be required to step in and be available for 24 hours shifts. Not sure how to calculate for overtime when your caregiver is working those long shifts? We can help.
Sleep Time Exclusion
The FLSA will allow up to eight hours of sleep time to be uncompensated for overnight senior home care, under specific conditions. This applies to overnight care that is both adjoining with a scheduled work day of 24 hours and gives the caregiver this amount of time for uninterrupted sleep. This is an important distinction - if the caregiver has less than 5 hours of sleep uninterrupted by caregiving responsibilities, the exclusion will not apply. California specifically disallows the sleep time exemption. And New York State allows the exemption of an additional 3 hours for meal breaks taken on duty (the 13 Hour Rule) for senior care only!
Overtime
It's important to note that overtime rules apply when your come and go senior caregiver works over 40-hours in the work week so this must be properly calculated. It is also common to see caregivers get an additional stipend. Here is an example of how a caregiver should be compensated in the event of a regular family caregiver's vacation or occasional overnight.
Example:
Nina is a 90-year-old woman that lives in her own home and has a caregiver that works with her regularly. The senior caregiver works Monday through Friday from 9am to 7pm and is paid $850 a week or $15.45 per hour for the first 40 hours, and $23.18 for the 10 hours of overtime. Nina's daughter and her family live in the adjoining home, and the daughter is available to help and over the weekends (baby monitors are not just for babies!). Nina's daughter asks the daily senior caregiver to stay overnight while the family heads out of town for a quick trip. The caregiver stays over Wednesday and Thursday night, working 14 additional hours each day. 8 of the hours per shift may be excluded from compensation if she can sleep without being interrupted to provide service to Nina. Six of the hours should be paid at the overtime rate. If the caregiver is interrupted to help Nina to the bathroom or to administer medications and she has less than 5 hours uninterrupted, the entire shift must be compensated at the appropriate hourly rate - ion this case her overtime rate of pay as the hours are greater than 40 in the week. The family has a written work agreement that outlines the policy for overnight care and it also allows for an additional $75 overnight stipend to add additional incentive for the caregiver.
Still not sure how to plan for something like this? Our experienced team at HomeWork Solutions can help! We will help get your payroll in order and explain the basics of regular versus overtime pay. Not to mention, we will help calculate proper tax withholdings so there are no surprises when it comes time to file tax paperwork to the government. Contact us today!