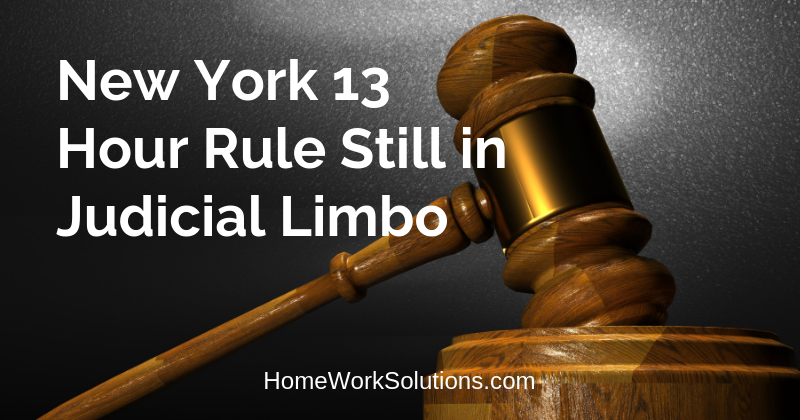 UPDATE MARCH 2019: The New York Court of Appeals upheld the NYS Department of Labor's so-called 13 hour rule on March 26, 2019. This effectively reverses the two 2017 lower court rulings that invalidated the policy. The court specifically noted however that any negative impact on a specific shift - for example the interruption of sleep after less than 5 hours, invalidates the rule for that shift and all hours must be compensated. The burden of proof lies with the employer.
Imagine the frustration you would feel after working a stressful 24 hours straight, only to realize that you're only being paid for 13 hours of that time. Home health aides in the state of New York have said 'enough is enough' and in May 2018, several of them as well as two nonprofit advocacy groups, sued the state's Labor Department and the commissioner Roberta Reardon with the intention of throwing out the state's emergency regulations that allow for this to happen. Their end goal: to be paid for every hour of a 24-hour work day.
Under current regulations, health-care agencies can only pay workers for half of the on-duty hours, yet many of these hard-working caretakers continue to show up for their shift and work around the clock. The so called "13-hour rule" has been through months of legal negotiations and is still in limbo.
It is important to note that privately employed senior caregivers in New York typically negotiate to be paid for all hours they work. Private pay families find this is a necessary concession to retain quality caregivers. While expensive, most families concede that this is the right thing to do.
Having 24-hour care for certain patients is oftentimes medically necessary and even if the caregiver is resting at mealtime or during a series of hours at night, the person must be aware and available to the patient to ensure that they are kept safe and healthy. Sometimes, these caretakers are called upon to assist the patient to the bathroom in the middle of the night, check blood sugar levels or blood pressure, administer medication during the evening hours, or make sure that the patient is safe and secure inside the home. Caregivers that are being capped at 13 hours of pay for a 24 hour shift understand that their mind or body is never fully shut down when they are on call 24-7 and that they should be compensated fairly in their workplace for the actual time that they work. They are on call to work when sleeping every bit as much as a firefighter, who DOES get paid for all hours.
If you are a caregiver in New York working 24 hour shifts, or employ caregivers in that capacity, it will be important for you to follow this matter.