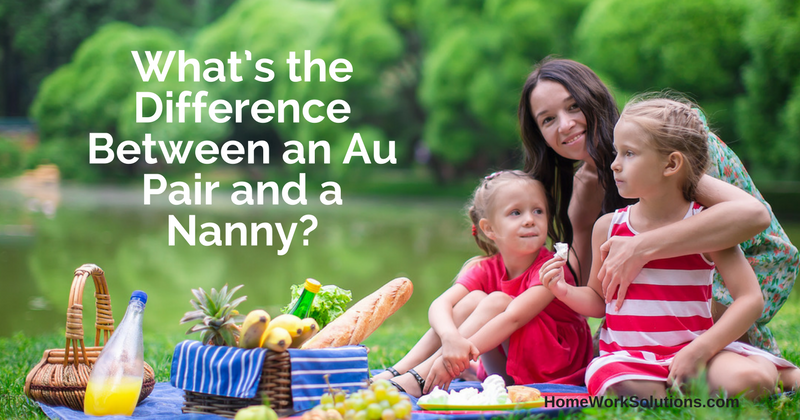 You may have heard people you know talk about hiring a nanny or au pair, but you may not be sure what the differences are between the two. Many people use the terms interchangably, not knowing that a nanny and au pair are two very different things. If you're thinking about hiring an in home childcare provider, it's a great idea to research which one would be the best fit for your family, au pair vs. nanny.
All about au pairs
Au pairs come to the United States on a J-1 Visa, as part of a cultural exchange. Think of them like a foreign exchange student that is able to earn money through childcare services. Au pairs are only matched through approved government agencies and they're approved for work in exchange for meals and housing under a designated set of guidelines in addition to getting a weekly stipend. Au pairs live in the home of the family they are working for, so families that work with one will need to define responsibilities and set hours of work right away so there is no confusion. The au pair's visa is for either one year or two and cannot be renewed. Generally, au pairs cannot work more than 10 hours per day and they do not have nanny tax obligations.
All about nannies
A nanny is a fairly broad term that is used to describe someone that provides in-home childcare for a specific family. They can either live in the family's home or live outside of it and they can offer both full time and part time care. There is no government screening involved, but instead, the families are in charge of doing background research and interviews of the candidates. This gives families more control over who they're hiring and which one might best interact with the children. More importantly to many families, a nanny can be employed as long as the family has a need for in-home childcare, there are no government limitations on the length of the relationshop.
Nannies and au pairs provide plenty of benefits for busy, working families that need an extra pair of hands to help care for their little ones. Whether it's a nanny or an au pair that best fits your family's specific requirements, there a variety of highly qualified individuals out there that are ready to take care of your children and become part of your family!
Nanny Hiring Resources
Guide: How to Interview a Nanny
Tips for Effective Nanny Background Screening
Guide: Writing a Nanny Work Agreement (Includes Nanny Work Agreement PDF Template)