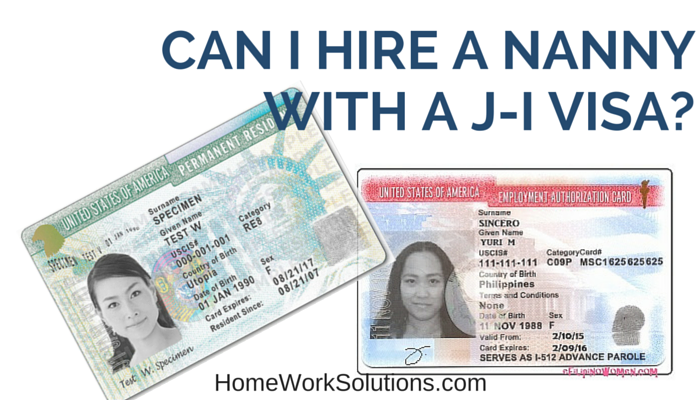 A household employer may lawfully employ a U.S. citizen, green card holder, or a non-immigrant with an approved Employment Authorization Document (EAD). All employers must complete USCIS Form I-9 with their newly hired employees at time of hire to verify that the individual is properly authorized to work in the United States.
Identifying individuals who are authorized to work in the U.S. can be confusing for household employers, as many individuals are legally present in the United States yet are not authorized to work, and others are NOT lawfully present in the US yet they do have (temporary) authorization to work.
The foreign national has a Social Security Card. Isn't that enough?
A J-1 visa holder is almost always issued a social security card. This facilitates their opening of bank accounts in the US, enrollment processes with the host university, among other reasons. As USCIS Form I-9 instructions clearly indicate, a social security card that is imprinted with a message such as NOT VALID FOR EMPLOYMENT or VALID FOR WORK ONLY WITH DHS AUTHORIZATION is not an acceptable I-9 document. The foreign national must either present an EAD or a Green Card.
What is an EAD?
An Employment Authorization Document (EAD) is a document issued by the USCIS to authorize an alien to work in the U.S. for a period of time, usually one year. It is also called a work permit. It takes the form of a card with the alien's name, photo, and work eligibility expiration date. With the EAD, an alien may legally work in the United States for any employer. See sample image at right.
What is a Green Card?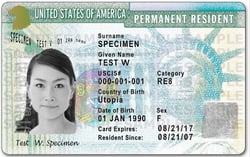 Green card refers to a U.S. immigration process of foreign national becoming a U.S. permanent resident. The green card serves as proof that its holder, a lawful permanent resident (LPR), has been officially granted immigration benefits, which include permission to reside and take employment in the United States. See sample green card (Permanent Resident Card) at right.
On June 15, 2012, the Secretary of Homeland Security announced that certain people who came to the United States as children and meet several guidelines may request consideration of deferred action for a period of two years, subject to renewal. They are also eligible for work authorization. Deferred Action for Childhood Arrivals (DACA) is a use of prosecutorial discretion to defer removal action against an individual for a certain period of time. Deferred action does not provide lawful status. There are approximately 108,000 young, non-citizen adults who have been provided employment authorization under this program as of August 2015.
Can a J-1 Visa Holder work as a nanny or senior caregiver?
According to the US Department of State, "the J-1 classification (exchange visitors) is authorized for those who intend to participate in an approved program for the purpose of teaching, instructing or lecturing, studying, observing, conducting research, consulting, demonstrating special skills, receiving training, or to receive graduate medical education or training." J-1 visas are issued to participants in the US Au Pair program. A J-1 holder is only allowed to perform the activity listed on his/her Form DS-2019. Generally, the United States Citizenship and Immigration Services' (USCIS) regulations require J-1 holders to work only for their educational program sponsors. Au pairs may only work for their host family and cannot accept paid employment beyond the hours and duties as outlined in their visa. Any exceptions must be approved in advance by the Sponsor's Responsible or Alternate Responsible Officer.