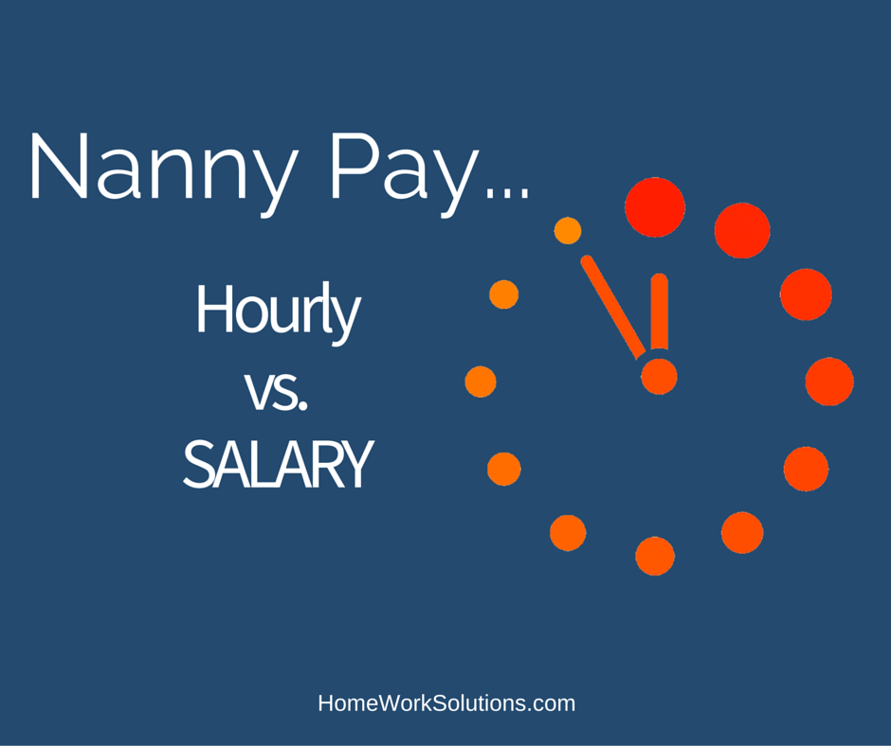 As employers, we're required to provide fair compensation to our nanny and that means either providing a solid hourly, weekly, or monthly rate. Many families feel that paying a flat rate is the simplest and most efficient way to do things; however by law a nanny is an hourly employee and entitled to pay for all hours worked at the hourly rate, and may be entitled to overtime. Because the Fair Labor Standards Act specifies that household workers are to be paid hourly, improperly wording your compensation offer to the nanny can put you at risk to unpaid wage and unpaid overtime claims.
The bottom line: there is still a lot of confusion surrounding the idea of nanny's salaries.
So, what information is correct?
As an employer, it's important to understand how to appropriately pay our nannies within the parameters set by the law. The Fair Labor Standards Act states that nannies must be paid for every hour they work and live-out nannies are required overtime pay if they work over 40 hours a week. That means that paying your nanny a set salary stated in weekly or monthly wages is illegal. As an employer, it is common to see some of these misconceptions that happen with the nanny/salary dilemma.
Misconception #1: Live-in nannies don't earn overtime so they can have a salary.
State laws vary, but some states require that live-in nannies are paid overtime. In addition, live-in nannies are protected by the Fair Labor Standards Act (FLSA) which requires that they must be paid for each hour worked. Therefore, salaries are prohibited.
Misconception #2: Nannies can be paid salaries as long as overtime is paid.
The definition of a salary is a fixed amount paid every week of the year, no matter how many hours your nanny works. Saying that she will be paid overtime means that she will not be paid a salary. However, read on to learn how you can make your agreement comply with the FLSA's rules on hourly rates and overtime!
Protect yourself from unpaid wage and unpaid overtime claims!
When it comes to negotiating your nanny's payment schedule, work with an hourly rate based on a typical work week, whatever that looks like for your family. Some families will need a nanny 40 hours a week, some will need them more or less. Take what you think is a fair salary and translate that into an hourly rate (HWS' free hourly rate calculator will do the math for you!), making sure to include that breakdown in your work agreement. Instead of using the term "salary", shift your thinking to include language such as "guaranteed hours" or "hourly wages." And last but not least, be sure that the designated pay and schedule falls into line with FLSA.
Can I offer a guaranteed weekly wage that is legal and protects me from overtime calculations?
Many families solve this dilemma by guaranteeing a weekly wage, and stating it in FLSA compliant hourly and overtime rate language. For example, you have a live out nanny in Connecticut. She typically works 5 9-hour days per week and you want to pay her $800 weekly. Occasionally you may need her for an extra hour or two, or you may return home early and dismiss her early. If you write your compensation agreement properly, you can pay the same amount every week (within boundaries) and keep the situation legal.
How?
If you normally schedule your nanny for 45 hours, and will never need her more than 48 hours in a week, write your compensation agreement as follows:
Employee Weekly compensation of $800.00 gross, based on an gross hourly wage of $15.38 and a 48 hour work week. Employee guaranteed minimum Weekly compensation of $800.00 gross. Weekly hours worked in excess of 40 per week to be compensated at $23.08 gross per hour.
Written this way no matter what the week works out to, so long as total hours never exceed 48, you are covered. If you need her for 50 hours in a given week, add the 2 hours at $23.08 to her gross pay and do the calculations from there!
Need help? Give HWS a call at 800.626.4829 or schedule a free consultation - we are here to help!
Related Posts:
Nanny Net Wage Agreement: Be Careful
The Single Reason Why Paying Your Nanny Net is a Bad Idea!
My Caregiver Wants to Take Home $600 a Week. What Does That Mean?