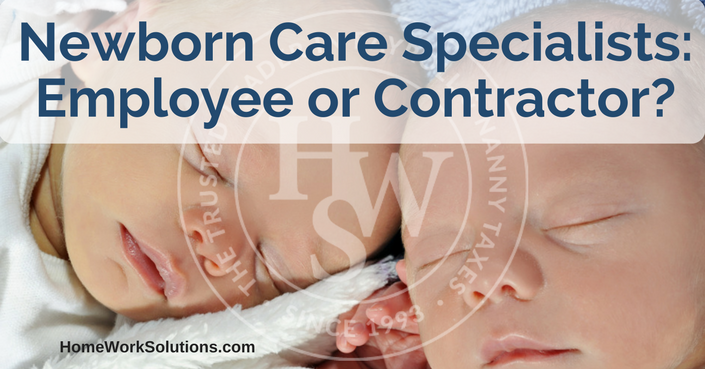 Newborn care specialists are a relatively new form of specialty nanny. Formerly known as "baby nurses," the NCS typically cares for a newborn for the first several weeks to the first several months of life. They are specialists on working with newborns, premature babies, and multiples such as twins and triplets. The NCS partners with the new parents, educating them as required on infant care, provides care for the baby so mom can rest and recover, and helps the infant develop good feeding and sleep schedules and patterns.
When is the NCS an employee?
Most often an NCS is an employee of either the family or the agency they work through.
The NCS is an employee of the family when the family pays them directly, has the right to control the work performed, has the right to discharge the NCS and the NCS does not have the right to independently assign other caregivers to work shifts for her.
The NCS is an employee of the agency when the agency contracts directly with the family, the agency sets the service fee paid by the family, the agency pays the NCS directly and the agency has the right to terminate the NCS. Other strong indicators of an agency and NCS employment relationship include the agency requiring the NCS to adhere to a specific uniform or branding as well as agency control of shifts and scheduling.
When is the NCS an Independent Contractor?
Some NCS do work independently and legitimately may be independent contractors. Some factors that confirm this independent contractor status include:
The NCS sets her rate of pay and presents a contract to the family.
The NCS' contract includes cancellation and/or early termination financial penalties.
The NCS retains the right to staff other professionals in the job for some or all shifts.
Risks of Misclassification
Misclassification is the improper classification of an employee as an independent contractor. Employees have rights and protections under labor laws that do not extend to independent contractors. Families and agencies who are actually employers are obligated for employment tax payments, wage reporting, and often Workers' Compensation insurance coverage.
A family or agency that misclassifies their NCS employee as a contractor, if discovered, risks:
Liability for back employment taxes.
Liability and penalties for failure to provide workers' compensation insurance.
Liability for penalties and interest for late tax payments.
Liability for unpaid overtime payments.
Bear in mind that the US Department of Labor's Administrator of the Wage and Hour Division, David Weil, on July 15, 2015 stated unequivocally "Most workers are employees under the Fair Labor Standards Act." The safest, conservative approach is for the family or the agency to treat the Newborn Care Specialist as an employee, and comply with all tax and labor laws.
Related
What is a Newborn Care Specialist?