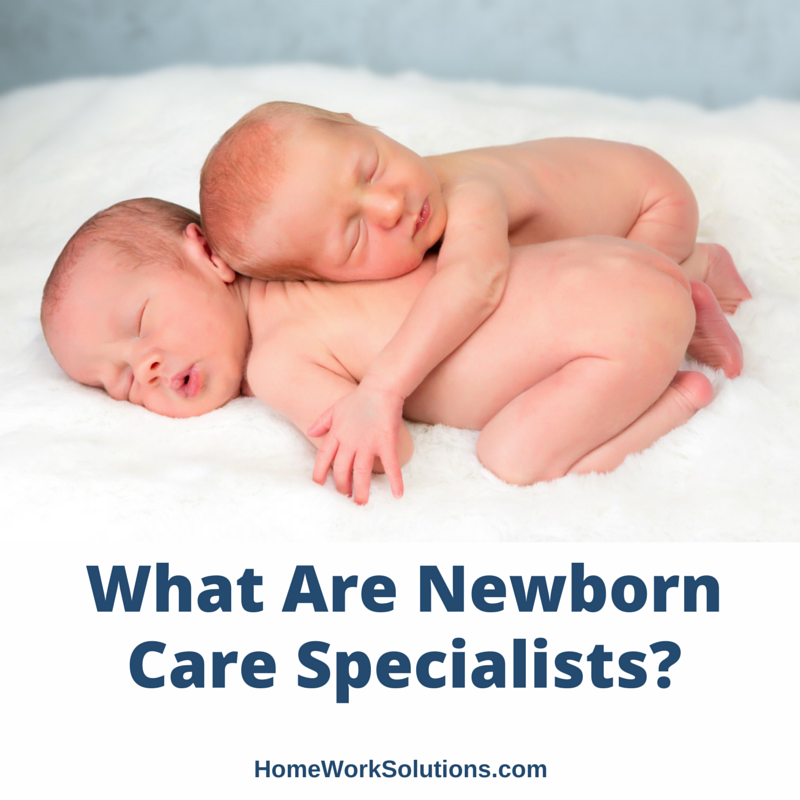 When parents first hold their babies, they feel a fierce love and sense of protection for the child. They want to do anything and everything they can to care for the baby as best as possible and find others that love and care for the baby as much as they do. And when the time comes, one of the most important decisions you will make as a parent is who will help care for your infant. You may have heard of Newborn Care Specialists, also known as infant care specialists, but what exactly do they do and will it be a good fit for your family? Here, we've outlined an infant specialist job description and some facts you should know about Newborn Care Specialists and what they have to offer.
What are Newborn Care Specialists?
These individuals are trained specifically for newborn care, and work with babies from birth through several months, depending on the needs of the family and baby (or babies!). This person has a variety of skill and experience with caring for newborns and has expertise in not just newborn care, but parent education and support. The services they provide include:
Assistance and education for parents after the baby is born and settling in at home
Sleep training
Changing diapers and bathing
Help with breast feeding and/or formula and bottle feeding
Creating a stimulating environment for a baby when awake
Documenting sleep, eating, and changing patterns for the baby

Helping the baby transition to a routine/schedule

Newborn Care Specialists often work at the home during the night shift and take care of the baby while the parents sleep and assist with feeding as necessary. If the baby is breast fed, the specialist will bring the baby to the mother for feeding then get the baby back to bed. During the day, the specialist provides similar care. They are not usually responsible for other household duties and are not usually in charge of watching other children in the household. This position is a temporary one, with the average specialist working at least 2 weeks and sometimes up to four months.

Are there Newborn Care Specialists with advanced training?
Some individuals choose to go through additional training to offer greater assistance to families. Some specialists have been trained to assist with sleep training beyond the age of 3 months and are able to provide information on colic/reflux in infants and are available to provide consultations on other issues that arise with newborns. Many Newborn Care Specialists have undergone advanced training on caring for premature babies or multiple newborns including twins, triplets, and quadruplets.
What do Newborn Care Specialists charge?
Salary is often dependent on experience. The average rates are between $20-$35/hour and are based on how many babies the individual will be caring for. Most specialists work 8 hour shifts, but there are also others that are willing to work 24 hour shifts or part time shifts as needed.
Newborn Care Specialists are special people that have a passion for providing extra love and attention to a family adjusting to a new baby. The individual recognizes that both parents will need to change their routines a bit while learning to care for a child, so she works with them to educate and support during this transition period. For first time parents as well as parents that already have older children in the home, Newborn Care Specialists have proven to be an extremely valuable asset in the home once a new baby arrives.
Cortney Gibson of Gibson Newborn Services is a NCS, Sleep Consultant and Integrative Family Wellness Expert. She explains "Many new moms and dads are waiting until their thirties to have children. They may have little experience with babies and often live far from their relatives, which leaves these new parents on their own with questions and concerns. An experienced NCS will answer their questions, ease their minds and support them in their new roles as parents. Hiring a knowledgable and experienced NCS will result in a smoother recovery from birth, increased breast feeding success and a calm, well-rested household."
---
A Special Offer from Gibson Newborn Services:
Gibson Newborn Services has a special offer just for HWS clients! Take 15% off of a consulting package when you mention Summer2015 in your Client Questionnaire . This offer must be purchased by August 31, 2015 and used by December 31, 2015. Packages included in this offer are; Core, Select and Premium Sleep Coaching, Fussy Baby Fix, and Gentle Beginnings.