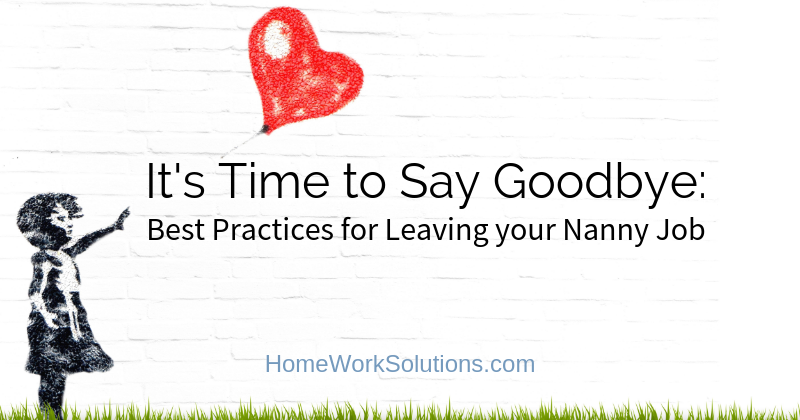 Nanny jobs are never permanent. Nanny jobs inherently change and evolve over time as the children grow. Maybe your charge is heading to school and your nanny family wants you to assume more household management functions and that is not your cup of tea. Maybe you prefer to work with a particular age group. Maybe you have received a job offer with a better schedule or better pay. Whatever the reason, if you've decided that it is time to move on from your current nanny position, there are some important things to keep in mind when you do. Leaving your employer with a positive impression is crucial. Here are some of the best practices for leaving your nanny job.
Leaving your employer with a positive impression is crucial. Here are some of the best practices for leaving your nanny job.
#1: Review work agreement.
Before you give notice, review your written work agreement that you signed when you were hired. This will go over any important details you may need to know when it comes to leaving your position including notice periods, confidentiality obligations and more. Ensure you have everything in order before you talk to your employer and give your notice.
#2: Practice the golden rule.
No one wants to be left high and dry with no coverage for their children. So, when you decide to give notice at your position, do what you would want to be done to you if you were in your employer's position. Be respectful, provide plenty of notice, and communicate clearly so there are no issues.
#3: It's not you, it's me.
When you decide to leave your position, be sure you be respectful and express your appreciation for the employment you had. Point out some positives about your employment with them and explain why you are planning to move on. Be as positive as possible, so you can leave things in a good place when you go.
#4: Request a letter of recommendation.
Even if you already have another job lined up, do request a letter of recommendation for your portfolio. You may need it down the road. When you are being respectful and working through your notice period, your employer should be appreciative and willing to accommodate.
#5: Talk to the kids.
Once you give your notice, first talk to the parents about how they would like the kids to be told. Some families want you to do it, some want to have that discussion themselves, and others would rather all three of you talk with the kids together. If the children have concerns, address them and communicate so they feel heard. Ensure that they feel loved, no matter what. It is best if upon your leave-taking you have a time frame for a follow up visit - often babysitting for a date night for your former employers.
#6: Help your successor.
This is a great way to make things smooth during the transition from one nanny to the next. Before your last day, write up a daily schedule, as well as a list of likes/dislikes or quirky behavior that the kids have. Anything that you can do to help the new person filling your shoes, the better impression you will leave with the family.
RELATED:
Writing the Household Employee's Letter of Reference