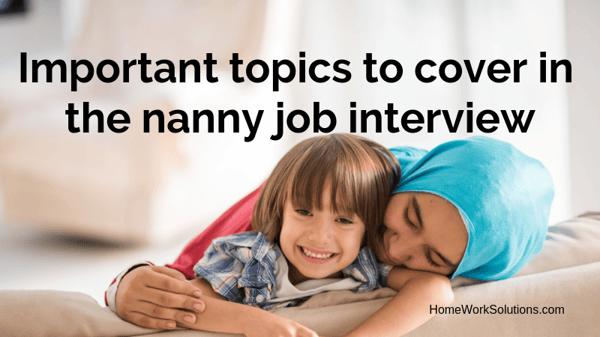 If you are looking for a nanny to work with your family, you know that it takes a lot of time to review resumes and sit down with top candidates for interviews. Doing your research ahead of time and not rushing the process means that you will be able to find the person that fits best with your family. The interview process itself is very important, too, and there are some key topics that should be covered during that time.
#1: Cover the basics.
This is obvious but talking about the basics right at the get-go is important. Make sure you clearly communicate with the nanny candidate about wages, benefits, taxes, and guaranteed pay. While much of this will have been touched on in the telephone screening process, his is the time to lay everything out and talk about details, so there is no confusion or frustration that creates conflict later on. It's a great time to ask the candidate if they have questions, too.
#2: Talk about styles and experience.
Fitting in questions about child rearing and discipline styles is critical. For example, if you teach and enforce limits with your kids - for example limiting screen time, no eating on the sofa, etc. - and your nanny begins work and is lax with discipline, this could not only cause frustration and more work for both of you, but it will confuse your children. Brush up on behavioral interviewing! Ask the candidate to describe what she would do in specific situations and determine if you are on the same page. In addition, talk to the candidate about their specific experience. What ages of children have they worked with in the past and do they have a specific area of expertise? Stop talking, listen, and assess for character. Finding the right match when it comes to chilc care philosophies and knowing if they have the experience that is required for your specific position will save you a lot of hassle later down the road.
#3: Go over specific duties.
During the interview, talk about what unique duties are required for the position. Do you expect your nanny to take the kids outside of the home to engage them in activities or do you want her to help with them with homework? Do you want her to run errands for you or help with light housekeeping? The candidate should know these things during the interview, so she is aware of the duties. It is up to the candidate to determine if those duties are something she wants to do or is experienced in doing. If you do not talk about those duties now and then you hire her and tell her to start doing those things, she may become resentful or upset. It is always best to about these things ahead of time, so she knows what is expected.
By following these tips, you can make the interview process exciting rather than stressful. It means that you are getting close to finding the right person to work with your family. Once you find the person you want to hire, be sure to contact our team at HomeWork Solutions to get payroll and taxes set up for your new employee. This will save you time and help make paycheck time smooth and easy!