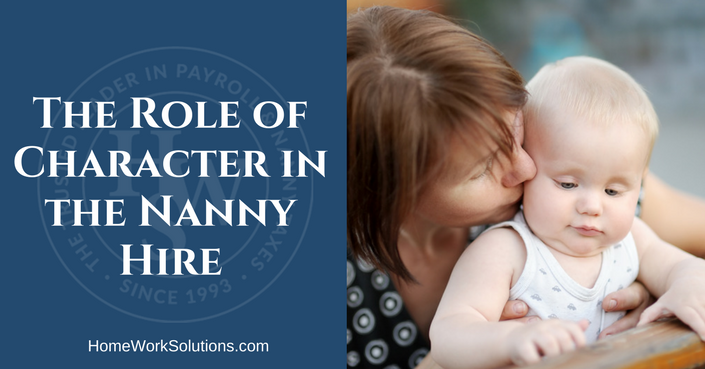 Peter Schutz, motivational speaker and the former CEO of Porsche, famously opined "Hire character, train skill." In the business world it is easy to understand this philosophy. Character is ingrained, you can and should train specific skills. How does the role of character translate into the nanny hire?
Open and Honest Communication
A key attribute of a successful nanny is outstanding communication skills. The nanny should feel comfortable honestly and respectfully addressing any child related issues as well as concerns about the employment arrangement with the employers.
Personality Fit
Families who feel good interpersonal chemistry with the nanny find it easier to balance work and personal interactions with their household employee. The nanny and child also need a good personality balance, particularly as they will be spending many hours together. An outgoing and gregarious child may have problems connecting with the shy, withdrawn nanny.
Fun with Learning
A family counts on the nanny to engage their child in age appropriate developmental activities. Almost all childhood games and play have a learning component involved. These early childhood years are key to life long learning. A nanny should bring energy and enthusiasm to her job, and she should guide your child to have fun while learning new skills.
Patience and Respect
Young children have an incredible capacity to remain engaged in the same activities and your nanny should have a high tolerance for repetition. Repition is how children master skills. Children will often find themselves challenged, whether it be potty training or learning to tie shoes. Look for a nanny who can demonstrate both patience and respect when faced with both over-exuberance or frustration.
Dependability
Clearly you need a nanny who is punctual, brings her A-game every day, and demonstrates the time management skills needed to keep your child on a schedule and your household running smoothly.
How Do You Assess Character in the Nanny Hiring Process?
Behavioral interviewing, also referred to as hypothetical interviewing, is the gold standard in the nanny hire. Questions should be open ended, and require the nanny applicant to reveal a bit about themselves.
Communication: Tell me about a time when you have had to address a touchy subject with a supervisor? What was the situation, how did you handle it, and how did you feel? Would you do anything differently today?
Personality: It is important to balance the nanny's personality with your family's culture. Do remember that a great nanny is not always your clone personality wise. A good nanny brings energy and experience that compliments, not challenges your family. Questions such as "Describe the best person you every worked for?" or "Some people look for a lot of order and structure in their work, others may prefer environments that encourage creativity and independence. How would you describe your ideal work environment?" Clearly there are no right or wrong answers, but rather answers that help you determine whether you and the nanny have the right chemistry.
Fun with Learning: When interviewing you will ask open ended questions such as "Tell me about a time that you helped a child learn an important skill? What was it and how did you go about this?" Listen not just to the words, but for the enthusiasm and joy the nanny (hopefully) felt describing the process and the outcome.
Patience and Respect: "Tell me about a time when a child was punching all of your buttons. Describe the situation, how you felt, and how you dealt with the child?" or "Tell me about a time when a child was having trouble mastering a skill? How were you able to help? What did you learn?" Listen here for a nanny who is self aware, knows when to redirect the child or change her approach, and understands the difference between helping to learn and doing for the child.
Dependability: Dependability is a measure of those things that you as the nanny's employer want to depend upon. This can be different family to family, and job to job. Do you need the nanny absolutely on time every morning? If so ask a question such as "Tell me about a time when you were running late for work. What did you do? How did that work out?" EVERYONE will have the occasional delay, whether it is traffic, a car problem, or just plain oversleeping. Listen for the nanny who gave her employer the heads up right away, who perhaps skipped her morning shower or breakfast to make up time. Do you need a nanny who can be flexible to work late occassionally, sometimes without notice? "Tell me about a time your employer called 10 minutes before the end of your shift to say they were running an hour late? How did you feel? What did you do?" Many nannies have their own families, perhaps children, waiting on them at the end of the day. Look for the nanny who has a plan B that is well thought out.