In today's economy nannies are finding that good jobs take longer to secure. The household who let's their off-the-books nanny go, for whatever reason, should be seriously concerned about their former nanny filing an unemployment claim. The nanny who was perfectly content to receive tax fee income experiences a reality check when they have no income for weeks, or months. Suddenly, filing an unemployment claim seems the only option to avoid eviction or to put food on the table. Once that claim has been filed, the whistle is blown on the former household employer. Since state unemployment systems share this information with the IRS, everyone is on notice that the family employed the nanny and that there are no tax returns on file.
This is when the laws of unintended consequences come into play.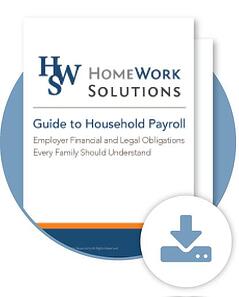 The financial risk to the household in these cases is significant. The household employer has the obligation for remittance of the payroll taxes, not the nanny. A nanny who was being paid $400 cash has little or no income tax obligation on her wage - her risks for coming forward are nominal, and insignificant in the face of her lost earnings and need for unemployment benefits. The family, however, has approximately a $3700 back tax bill for just one year - and that is before penalties, interest, and the cost for professional assistance amending previously filed income tax returns. Consider for a minute that in metro areas the nanny cash wage is often $500 - $600 a week or more and the liability grows substantially.
The family considering employing their nanny and skipping the household payroll taxes needs to seriously consider their risk tolerance.
We publish a free e-Book, the HWS Guide To Household Payroll. Learn more about the "nanny tax" and the household employer's legal and financial obligations!
Related Articles:
Case Study: We Paid Mom's Senior Caregiver Off the Books