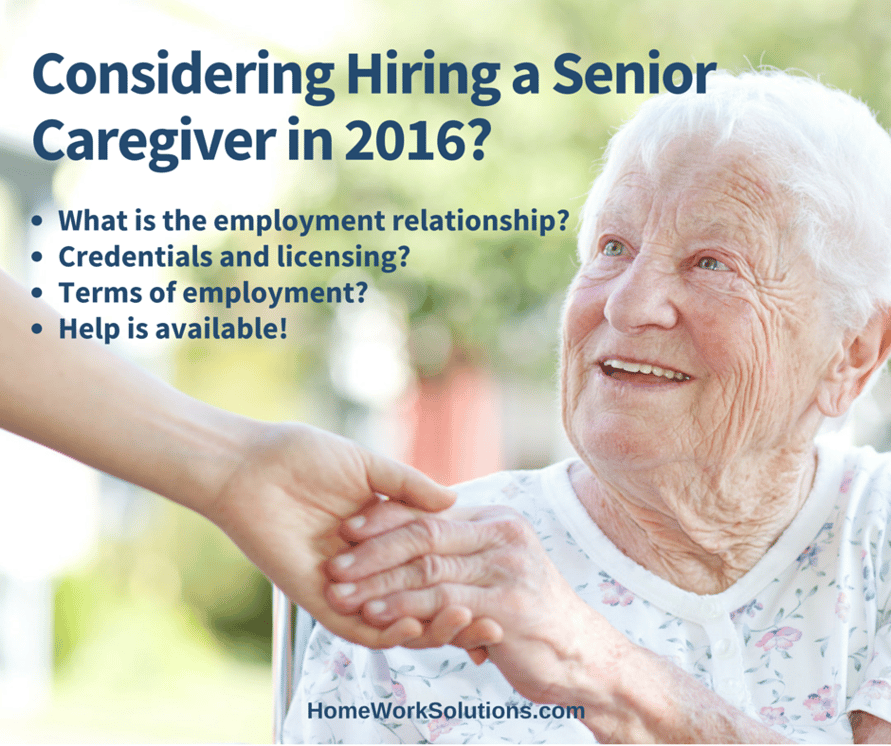 Nursing homes and assisted living centers aren't for every senior. Many seniors want to age in the comfort of their own home, but after time goes by, it's clear that in order to do this, in-home help is necessary. When your loved one enters into the elderly stage of life, sometimes things that were once simple like getting dressed, moving around, cooking, and cleaning become very difficult. But, opening up the home and entrusting your loved one to a caregiver is a big step and one that should be undertaken with caution and research.
Here are some important must-knows about hiring a senior caregiver.
#1: Understand the employment relationship.
When you hire a senior caregiver, you may become a household employer. If you are obtaining the caregiver through an agency, specifically ASK whether the agency has the caregiver on their payroll. If they say no, or say the caregiver is a contractor, you will be deemed an employer, with quarterly and annual payroll tax filings and payments, and subject to complex labor laws.
#2: Credentials and licensing matters.
Hiring a candidate with experience is important, but you should also be sure to look for any relevant training or other credentials that show that the candidate is qualified to care for your loved one. For example, Red Cross certification in CPR and First Aid is a great qualification to have, as well as any other additional training in the healthcare field. Depending on what state you live in, some senior caregivers will be required to obtain specific licenses or certifications, so be sure to check your county website for this information and review our candidate's resumé closely.
#3: Define the terms of employment.
Establishing a clear working relationship from the get go is critical and one of the best ways to do this is to create a clear contract to work from. The employment contract should spell out employment terms including duties and responsibilities, compensation and benefits, transportation, confidentiality, and severance information.
#4: Remember that there is help available.
Whether it's help with writing your employment contract or setting up payroll for your new in-home caregiver, HWS is here for free compensation consultation and can also help you set up your Payroll Calculator budgeting tool online to make sure that your employee is paid on time with the proper taxes deducted.
While it can be a relief to have help, it can end up being a stressful process if you're not prepared or if you don't do your research beforehand. Hiring in-home care is a sensitive process that requires some thought and preparation. It's important to conduct extensive interviews with your final candidates, call multiple references, dobackground checks, and listen to your gut instinct. Taking your time to do it right is important, not just for your loved one, but for the rest of the family as well.
Related Articles:
Guide to Privately Hiring Senior Homecare