(2nd in a 2 part series)
The Nanny Job Search - A Nanny's Perspective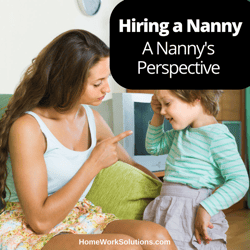 For some nannies, the job search process can be very stressful. They might be dealing with the sadness of leaving a charge behind, the financial difficulties of being in-between jobs, and navigating the increasingly competitive job market – it can all seem overwhelming.
There are two primary routes today's nanny can take to find her dream job. The most common ones are:
Nanny Agencies: She enrolls with a nanny referral agency which will perform the screening process and will schedule the interviews with the potential hiring families. The nanny agency usually has policies in place, prerequisites, and behavioral guidelines the nanny must follow in order to be represented by the agency. Each agency will have different guidelines and requirements.
Online Sites: She places her resume and qualifications on a "job matching site". The site matches the family's need with the potential candidates from their database and gives the family access to the available nannies' profiles. The family can then contact the nanny and schedule an interview. The family receives more than one candidate and can pick the best match for their family.
Let's ask Michelle LaRowe from www.enannysource.com to help us understand the pros and cons of job searching using online sites. Michelle is a mom, former nanny, and author, and has many years of industry experience to share.
Q: How can a nanny safely search for a job online?
A: Nannies should carefully guard their personal information until they are seriously considering a position. This means using the website based messaging system and keeping their contact information private until they are ready to apply for a position.
Q: What are common warning signs for the nanny when contacting families online?
A: Nannies should beware of online scams. Nannies should never accept prepayment for services, agree to cash a check from someone that they don't know or do favors of any kind for potential employers. Nannies should be leery if parents won't agree to a telephone interview or want to offer them a position without conducting a thorough interview. Nannies should also remember that all that glitters isn't gold. If something sounds too good to be true, like a large salary that doesn't correlate with experience, it probably is.
Q: What safety procedures do you recommend for nannies when interviewing with a family found online?
A: Nannies should also strive to gather information about a family so that they can make an informed and educated decision. They shouldn't be afraid to ask for references or to do an Internet search of the parents' names. They can even use the tools provided by the website to run a background check, with the parents' consent. Regardless of how nannies find potential employers they should insist on having both a phone and in-person interview. The first in-person interview should be conducted at a public place, such as a local coffee shop, and nannies should notify a friend or family member that they are going on the interview and provide them with details about the interview parameters and family. They should do the same if the interview progresses to an in-home one.

Q: How can a nanny improve her chances of a good online job match?
A: To find a good match, nannies should complete their online profile as completely and accurately as they can. They should definitely be honest about their strengths and what they are willing and not willing to do as part of the job. Nannies should remember that they have the ability to choose who they will work with and should exercise that choice wisely.

Q: What are the benefits for a nanny when searching online?
A: Parents are using all sorts of avenues to recruit candidates. With online sites nannies take control of their job search and are able to identify families they may be interested in working with. Nannies searching online get instant access to families who are seeking qualified applicants and can present themselves to those families for hiring consideration. With online sites nannies can cast their nets wide and make their search as narrow or as broad as they wish. With access to countless families, their chances of landing a position significantly increase.


Thank you Michelle for sharing with us. Nannies, what have you found to be your biggest challenges when searching for a nanny job online?
Resources: