(1st in a 2 part series)

Nanny Hiring Family's perspective: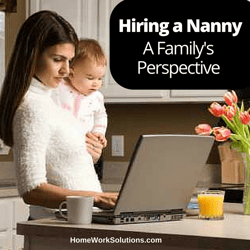 For some families, the hiring process can be really stressful. It's time for Mom to go back to work so stress is already in the air. Dealing with the separation process and hiring a new nanny on top of everything else? It can be overwhelming.
There are two different routes the family can take to find a nanny to take care of their loved ones:
Nanny Agencies: The so called "Brick and Mortar Nanny Agencies" - Families outsource the screening process to an agency. The agency takes care of the complete screening process for the family. They send home the best match they can find, the one that fits the family's needs best based upon the criteria requirements of the agency. Quality agencies align themselves with national professional groups such as the International Nanny Association or the Alliance of Premier Nanny Agencies.
Online Sites/Do-It-Yourself: The family registers with an online matching site, provides their needs and requirements for the job, and the site takes care of matching these needs with potential candidates. The family takes care of the hiring process themselves; the paperwork, screening, references and phone call references are all done by the family.
Let's ask Ken Myers, President of
www.enannysource.com
what the pros and cons of hiring online are...
Q: What are the risks to hiring a caregiver online? How do you address those risks?
A: I think whenever you are hiring a caregiver to come into your home you could consider it taking a risk. Regardless of how parents recruit candidates, it's their responsibility to thoroughly screen candidates and make an educated and informed hiring decision. Once parents identify viable candidates they should conduct a thorough pre-employment screening consisting of a phone interview, in-person interview at a public location, reference checks, background checks, and finally an at home interview with the children.
Q: Please list some of the most common "warning signs" for the family when they go the online route.
A: Parents should be leery if a candidate has an incomplete profile, refuses to have a phone conversation, won't provide references, won't consent to a background check or doesn't have adequate experience. If a caregiver stands in your way of gathering the information you need to make an educated and informed hiring decision it should considered a red flag.
Q: What safety procedures you recommend to families doing the online search?
A: Parents should use the site based messaging system for communicating, reviewing candidate profiles and look for any discrepancies, use the screening tools the site provides, like preliminary and in-depth background checks, verify the candidate's identity and conduct an Internet search on the caregiver, including available public records and social media sites to gather information they can use to make an educated and informed hiring decision.
Q: What happens if a nanny is not a good fit for the family? How soon do they find a replacement?
A: When parents invest the time and energy upfront and don't take shortcuts in the screening process they are more likely to find the right fit. Parents should always allow adequate time to find a qualified replacement. While it could take anywhere from a few days to a few weeks to find the right fit, parents would be wise to allow themselves 4 to 6 weeks to conduct their search.
Q: Please let us know what is the approximate time frame for the matching process?
A: Finding the right nanny for your family could take a few days or a few weeks or more, depending on the pace of your search, your availability to interview, your location, job schedule, duties and responsibilities and offering salary. Parents seeking a part-time nanny typically need to allow themselves more time to find a nanny since those schedules can be harder to accommodate.
Q: Besides the affordability, what other ways do families benefit from the online sites?
A: For parents who are willing take charge of their search and want to be in control of their search, online sites provide them the ability to do so. Today's nannies are job search savvy and are using a variety of outlets to search for their position, so parents have access to a variety of caregivers whom they can review for consideration. With online sites parents don't have to depend on someone else to do the work for them. Whether they are in the school pick up line, engine off of course, or lying in bed at night, parents have the ability to move their search forward when it's convenient for them.



Resources: