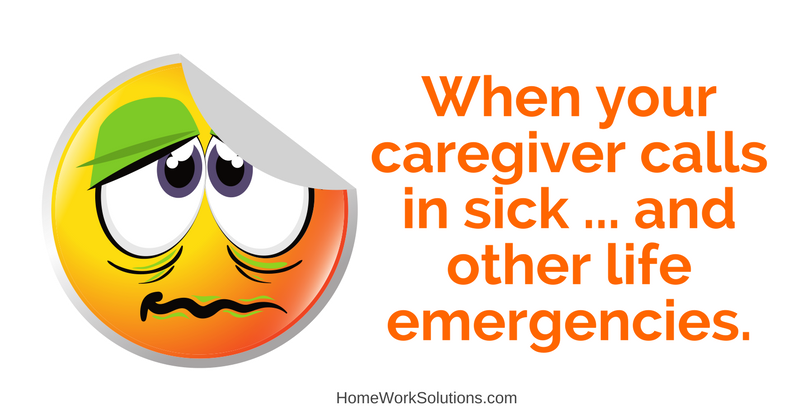 You have a busy life and having a nanny or caregiver step in to help is a huge help, one you depend upon. But, sometimes things happen that throw you for a loop. What do you do when your caregiver calls in sick or other life emergencies happen? Here are some helpful tips.
Tip #1: Plan ahead
Having an emergency plan in place is very helpful. What family members might be available to help? Is there another family member or back-up nanny that would be available for temporary drop-in care for your child? Does a local nanny referral agency offer temporary and on-call back-up caregivers? If not, look at the local community and find out what childcare services are available.
Tip #2: Don't make your caregiver feel guilty
Your nanny or senior caregiver understands the importance of their services and they know that you rely on them. A good caregiver will only call in sick if they're really sick, so keep that in mind. Don't make them feel guilty by saying "calling in sick makes it hard for me to find coverage" or "how could you do this to us." These are not helpful and could make your caregiver feel frustrated.
Tip #3: Review the day's schedule
If your nanny or senior caregiver calls in sick, review the day and what is scheduled, cancelling any non-essential appointments or outings. This can help relieve any pressure and make it as easy as possible for your backup caregiver. Routine medical appointments can be rescheduled, activities for the child or senior could be skipped for a day. If you do need to transfer a little one to another home, remember to bring their booster seats or car seats, or even consider offering to let them borrow your car if that is an option.
Tip #4: Write down the essential schedule
To make things easier for your backup caregiver, write down a list of essential items on the schedule. This could include things such as meal times, when medicine needs to be administered, and what allergies need to be considered. If there are specific instructions for toileting or dressing, this is also a good place to write out these things. This allows the caregiver to have a better grasp of what the day will look like and will give them the opportunity to ask questions if needed.
Tip #5: Check in
Periodically checking in with the backup caregiver can be very helpful and shows that you are appreciative of what they're doing. A quick phone call or a text every few hours will give you peace of mind and will also allow the caregiver to ask questions if things arise.
Remember, things will be done a little differently during the time that your regular nanny or caregiver is out sick, so be flexible and mindful of that. If your child or elderly loved one is being take care of and loved well with your backup caregiver, that's what matters.