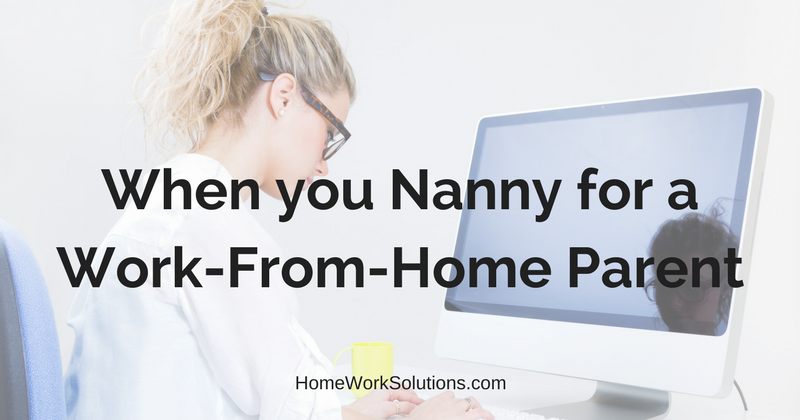 With more and more companies allowing their employees to work from home, more and more parents are forgoing the traditional office work environment and choosing to work from their home office. This can provide many benefits, but it can also be a bit of a challenge when it comes to nanny services. Finding a nanny that is ok with navigating the ins and outs of doing her job while the parent is still at home can sometimes be difficult, because it's unique and many times requires working around different house rules. Here are some tips that can help when you nanny for a work-from-home parent.
Tip #1: Establish clear boundaries
A lack of boundaries can cause significant confusion for nannies and work at home parents. When you're first hired, talk to the parent about what their work day looks like. Will they be on conference calls often? Will they be in their office most of the time, or will they be walking throughout the house during the day? Communication is important when it comes to talking about the child's proximity to the parent during the day. If the parent needs to be left alone for most of the day, then it's important that you know that, so the child isn't interrupting often. Establishing a clear and separate location in the home for the work from home parent to work in is a best practice, and many nannies won't even consider this job if that is not in place. Determine what boundaries need to be in place from the very get go.
Tip #2: Stick to a schedule
Kids love routines and schedules, but they're also great for the nanny/parent relationship. Understand what the parent's work schedule is like for the day or the week, and make sure that you follow it, so no unnecessary interruptions or confusion happens. For example, if the parent takes a lunch break every day and plans to come out of the office to enjoy it with you and the kids, be sure you have the kids available and ready for that. Or, if the parent has a particularly busy schedule that week, consider taking the kids out for various activities so the house can be quiet and provide a place of concentration for the parent. If you have a napping child, it is best for parents to schedule their important calls during this time.
Tip #3: Know how to handle conflicts
Conflicts will happen between a nanny and a work-from-home parent, but they can be minimized by clear communication. So, at the very beginning of employment, talk about discipline philosophies, activity preferences, and what the parent's expectations are when it comes to your role in the house while they are there during the day. Set aside time to connect with the parent on a weekly or monthly basis, so you can ask questions or get clarification on anything. This "sit down" time will help the parent communicate preferences and allow you to figure out how to best navigate your nannying role.
Tip #4: Remember, you are sharing a work space
A common irritant when sharing a work space is interruptions. Both the nanny and the parent need to maintain awareness that each party is entitled to perform their necessary roles free for unnecessary interruptions. Parents need to resist the temptation to step between the child and the nanny when there is conflict and a nanny needs to be respectful of their bosses time and not interrupt them with questions or observations that can wait for the proper time to address.
Nannying with a work-at-home parent can be a great experience, as long as you and the parents can be patient and keep the lines of communication open all the time.