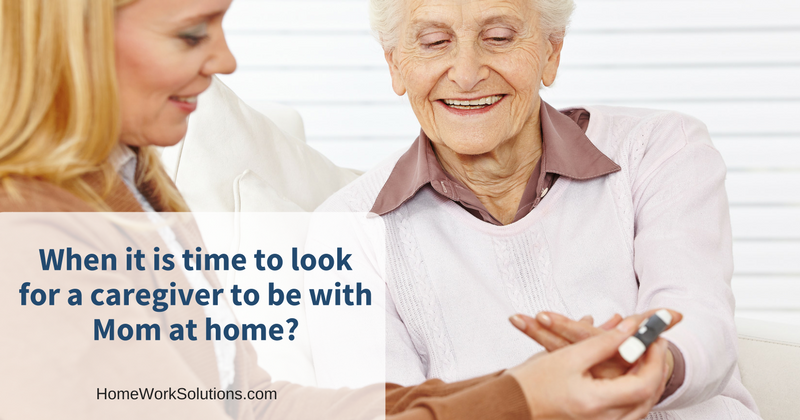 In-home senior care is a great service that can allow elderly loved ones to live on their own and to have the care and attention they need as they age. Aging in place is very important to some seniors, but as their bodies age, they may need help for daily tasks or medical help. How do you know when it's time to hire an in-home caregiver to come help? Here are some signs that your loved one might show which indicate it may be time to look for additional assistance inside the home.
#1: It's becoming difficult for them to maintain their home.
Maintaining a home requires a lot of work. Paying bills, doing the dishes, and cleaning the floors and bathrooms are just some of the many household to-dos that your loved one will need to keep up on as they get older. If you've noticed that their home is unkempt or that they are struggling to keep things maintained on a regular basis, talk to them about hiring outside help.
#2: Decline in hygiene.
Self-care is very important but it becomes harder as we get older. Bathing and keeping clothes clean is one of the basics, but if you've noticed your loved one not paying attention to hygiene and they are beginning to lose weight because they aren't eating well, in-home care is a great option that will allow your loved one to be kept safe and cared for.
#3: Regular mental confusion.
Forgetfulness is very common no matter what age you are, but if your loved one is confused on a consistent basis or they are forgetting things all the time, it's time to have them evaluated by a doctor and consider an in-home companion. Dementia and Alzheimer's disease are very common, especially for loved ones in their 80's and older, and if the mental confusion goes on for a long time –especially if it's combined with anxiety or depression, there will need to be a solid treatment plan in place that can help your loved one stay safe.
#4: Difficulty driving.
As your loved one ages, it's common for their vision and hearing to deteriorate, which could compromise their safety as well as the safety of others on the road. When they cannot drive anymore, an in-home caregiver is a great option. Caregivers can help do the grocery shopping and meal preparation for your loved one. In addition, they can provide transportation to doctor appointments and other meetings.
In-home care can be a wonderful solution to keeping your loved one in their home as long as possible, so they can be comfortable and happy. Our team at Homework Solutions is experienced in helping families manage the tax and legal aspects of employing a caregiver for their loved ones, so contact us today.