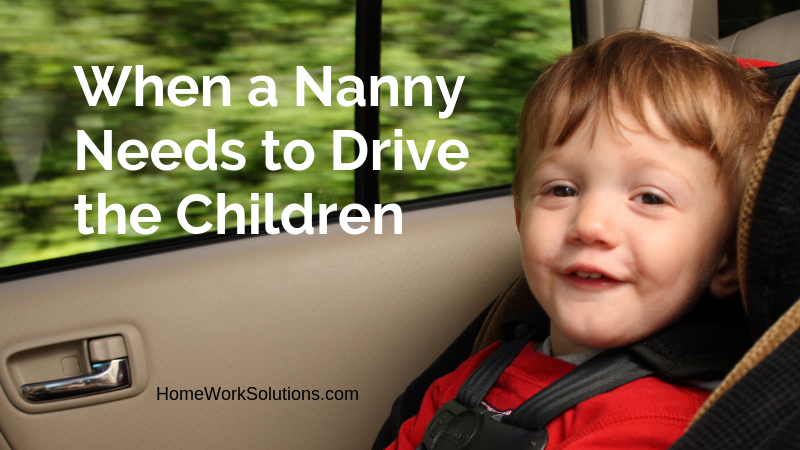 When does a nanny need to drive the children? Many families who hire a nanny need the nanny to provide some basic transportation for the children. This can be the regular drop off and pick up from morning preschool, transportation to and from sports practice, religious education classes, or other scheduled activities. It can also be the occasional trip to the doctors or orthodontics appointments, or occasional transportation to a classmates birthday party. Whether the nanny needs to drive the children routinely or simply upon occasion, there are important considerations for all parties.
Whose car?
The biggest consideration is whose automobile is used to transport the children. It is recommended that the family provide the vehicle for many reasons including:
The known condition of the vehicle including safety of tires and brakes.
The proper installation of child car seats.
The known automobile insurance coverage and limits.
When the family is providing the vehicle, it is vital that the family list the nanny on their automobile insurance policy as an additional insured driver.
If the family is going to ask the nanny to use her personal vehicle, the family at a minimum should do the following:
Review the insurance coverage that the nanny carries on the vehicle.
Consider and agree to how the automobile deductible will be covered if there is an accident while the nanny is transporting your children.
Review the physical condition of the vehicle, or have a mechanic provide a safety inspection, at the family's expense, every 6 - 12 months.
Things the nanny needs to consider
If the nanny agrees to use her personal automobile, she should require that the family do the following:
Provide for mileage reimbursement at the IRS mileage reimbursement rate for the current year.
Pay for the additional insurance fee for "business use" of the automobile.
Pay for new child safety seats and have them installed professionally. Be advised that this creates a hardship for the nanny as the back seat of her vehicle will always have your children's car seats taking up space.
If transportation is routine, negotiate a semi-annual interior and exterior car detailing, paid by the family. Dripping beverages, soiled children's shoes, and all the paraphernalia associated with the children leave a mark on the nanny's car, and it is simply fair to try to minimize the additional wear and tear.
In all cases, a frank discussion with the automobile insurance company should take place as rules vary from state to state and company to company. The absolute worse case scenario is an accident with injuries where the insurance company disallows the claim because the appropriate coverage was never obtained.