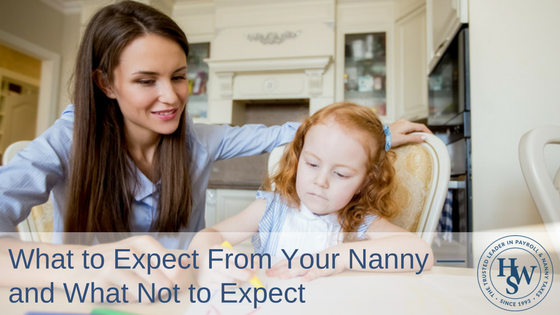 Hiring a nanny can be a wonderful way for busy, overworked parents to give their children the care and attention they need. These professionals can take much of the stress off your shoulders, and give you the peace of mind that comes with knowing your children are well cared for. The only problem is that many families don't know exactly what to expect their nanny to do.
While a well-rounded nanny can perform many wide-ranging tasks, there are plenty of things that stand beyond the realm of your nanny's responsibility. So, what exactly should you expect from your nanny, and which tasks will you need to handle yourself?
What to Expect: A Thorough Understanding of Job Responsibilities
When you're first hiring your nanny, it's crucial to take the time to sit down and outline the duties that you expect her to fulfill in the role by creating a work agreement. If you want your nanny to help with homework, dress the kids, and prepare dinner for the kids at certain times, then let her know, and she will perform. You can expect her to always live up to these agreed-upon duties.
What Not to Expect: A Nanny That Does Everything
Most nannies are happy to pitch in and offer extra help when necessary, but it's important to remember that a nanny is not a maid or a servant. Your nanny has a specific job, made clear from day one: to care for your children. This means that your nanny will manage things that relate to caring for your children and meeting their daily needs. If both you and your nanny understand the job at hand, you'll enjoy a better ongoing relationship and everyone, including your children, will benefit.
What to Expect: A Good Relationship Between the Nanny and Children
For most nannies, the primary focus of the job will be your children. For instance, she might watch them after school when you're not home, prepare snacks, and help with homework. You should expect her to build a genuine bond with your children. Your children should not dread having to be around her.
What Not to Expect: A Nanny Who Works Under the Table
You might think an under-the-table arrangement would be good for a nanny because she won't have to give up any pay in taxes. But this is in no one's best interest. It deprives her of access to benefits like unemployment if she loses her job, and denies her a verifiable job she can use on an application for an apartment, for example. And that's not to mention the legal and tax trouble you could find yourself in.
What to Expect: An Employee That Goes Above and Beyond
Because your nanny is passionate about his or her work, there's a good chance that you can expect them to go the extra mile for you from time to time. In some cases, nannies will even put in overtime to provide extra help to families who need it.
What Not to Expect: Unpaid Overtime
Importantly, just because your nanny might be willing to work overtime on your behalf, doesn't mean that she doesn't also expect to get paid. If you're asking your nanny to work longer hours than those stated in her contract, then you need to pay her accordingly. All professionals deserve payment for the hours they work.
The amount of overtime compensation you owe your nanny will depend on the circumstances of her employment. Rates and expectations can change according to whether you hire a live-in or live-out nanny.
What to Expect: A Skilled Professional
Being a nanny is a real job, just like any other. Most nannies are highly devoted to their work, and take great pride in their ability to do their job well. After all, as parents know, there's no substitute for skill and experience when it comes to raising children. With a nanny looking after your children, you can expect true professionalism.
What Not to Expect: A Nanny That Manages Her Own Payroll
As a household employer, it's up to you to make sure that you pay your nanny fairly and on time. That means that you can't simply forget to deal with the finances and tell your nanny her pay will be a bit late this month.
Your nanny works hard and deserves a constant wage, just like any other professional. You should turn to HomeWork Solutions for help when it comes to tax compliance and payroll maintenance. We can make sure you pay your household employee on time and satisfy all applicable tax requirements.
Make Sure Your Expectations are Realistic
As nannies begin to feel more like a member of the family than a household employee, it can be easy to forget that they're skilled professionals, performing a specific job. However, if you want to maintain a strong relationship with your nanny and ensure that you're taking the right steps as a household employer, it's crucial to keep your expectations realistic.
Some things you'll need to manage yourself, but for all things related to tax and payroll, you can turn to HomeWork Solutions to help.