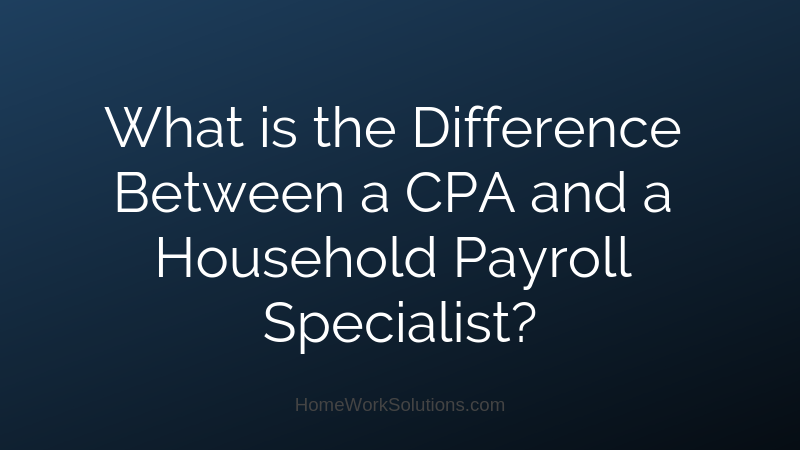 Sometimes managing money and paying taxes can get confusing. That's why bringing in a professional to help answer questions and take care of the details is important. We recently had a nanny call and ask us what the difference was between a CPA (Certified Public Accountant) and a Household Payroll Specialist. Here, we will go over some of the primary differences.
Household payroll and taxes for in-home employees is a small, but deep part of the tax code. While some CPAs understand it, unfortunately, it is often overlooked by many other CPAs that do not know the ins and outs of household payroll taxes and labor laws surrounding domestic employment. This is where a household payroll specialist's training and experience is invaluable to employers. These payroll specialists have dug deep into the federal and state laws that surround household payroll and taxes, which are vastly different than the laws that apply to other business clients that CPAs have, like restaurants or other small businesses. Household payroll specialists also understand the employment dynamics between an employer and nanny or senior caregiver, which are not the same as the relationship between a small business employer and employee.
Household payroll and tax specialists are proactive along the way and are committed to helping the household employer frame the employment situation legally, so they can accurately and successfully accommodate the household's needs. A CPA on the other hand, usually comes along after the fact to prepare tax returns based on what was already completed, whether it was legal or not. Working with a reputable household payroll specialist will ensure that taxes are withheld correctly so there are no big surprises when it comes time to submit your taxes to the government.
Working with an experienced team of household payroll specialists at HomeWork Solutions means you will have the peace of mind that you need to hire employees for your home and make sure they are paid correctly. Contact us today for information on getting started!