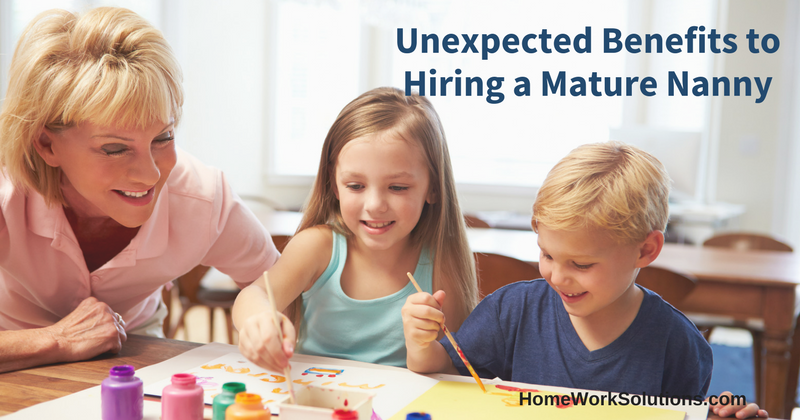 The decision to hire a nanny requires plenty of interviewing and research. There are many wonderful nannies out there that are looking for the right family to work with and it's exciting to think of the many possibilities that you have in finding the right one that fits just perfectly with your children. Nannies are not babysitters, but they are instead nurturing professionals that are committed to helping influence your children's growth and overall development. Nannies that are young and are looking to gain experience often have energy and unique ideas to bring to a family, but there is also something to be said about hiring a seasoned nanny that has years of experience. Here are some reason why you should consider hiring an experienced nanny.
Reason #1: Life experience.
Nannies that have worked for many years in their field have life experience that simply cannot be matched. They oftentimes have experience working in diverse family settings and many times they even have college degrees in Early Childhood Education. In addition, hands-on life experience is often the best.
First example: Using a screen to entertain toddlers and kids today has become the norm, because of the amazing advancements in technology in recent years. For a nanny that has worked with various families throughout the last few decades, distracting or entertaining kids with a screen wasn't an option, so instead, this type of nanny could have some great ideas on how to keep kids engaged without the use of technology.
Second example: If your child gets sick in the middle of the day and has some unusual symptoms, it's likely that an experienced nanny has some life experience in how to take care of a sick child until you get home. An experienced nanny has proven experience and training on how to ease your child's discomfort in addition to knowing what to do if there was any emergency situation that came up.
Reason #2: Going above and beyond.
Experienced nannies are more inclined to see their role as family support, not simply childcare. For example, they will often go above and beyond their job duties and help with meal preparation, run errands, or in general, just keep the household running while the parents are gone. This is something that a family shouldn't expect, but it's always wonderful when you can find an experienced nanny that understands the benefit of going the extra mile for a family.
Reason #3: Answers at her fingertips.
A seasoned nanny is already knowledgable in childcare for all ages, and has the self confidence to work as a partner with parents. She will have a wealth of resources at her fingertips - and has the ability to anticipate that only comes from experience. The mature nanny brings a grace and composure to her job. She can and will accommodate differing parenting styles and preferences, knowing that this is the parent's choice, not her's, to make.
Every family wants and needs the peace of mind that comes with knowing that their children are being kept safe and taken care of by a loving individual. Peace of mind is truly priceless and knowing that they will handle things as you would in any given situation, will help you be able to leave for the day to focus on what needs to be done. Working with a great, experienced nanny will help leave a positive impact on your family and the lives of your children. If you have recently hired a nanny and you're learning the ins and outs of paying her properly, we can help. Payroll and taxes can be confusing, so contact our team at HomeWork Solutions.