We get many questions surrounding overtime for domestic employees. Most of the time, household employees work 40 hours a week or less. However, when your employee works extra hours, you will need to be prepared to pay for overtime. Not sure how to accurately calculate the overtime for these longer shifts? We can help.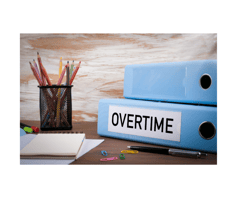 It might seem easier to agree to pay your employee a weekly salary to avoid overtime. Some might try to average bi-weekly payments to help make up for uneven work schedules. This could cause problems in a wage dispute because it goes against Fair Labor Standards Act (FLSA) overtime rules.
Fact: According to the FLSA, domestic workers who live out of the home should be paid 1.5 times their hourly wage for all hours over 40 per week. Workers living at home should calculate their overtime and their regular hourly rate. It's important to note some and exceptions to the live-in exclusion, especially for senior caregivers. Check here for more information.
Example:
Your mother's caregiver is paid $20 an hour for 45 hours, which translates to $900 gross pay per week. Using our hourly rate calculator, you can see the difference between overtime pay versus regular pay. If your caregiver works beyond 45 hours, you will need to pay the overtime rate, not the standard hourly rate. The hourly rate for the first 40 will remain at $20 and hour, and the 5 additional hours of overtime wage would be calculated at $30.00/hr.
We understand the FLSA laws can be complicated. To ensure your employee is paid accurately with no miscalculations, contact our experienced team at HomeWork Solutions for help! We will help get your payroll in order and explain the basics of regular versus overtime pay. Not to mention, we will handle tax withholdings so there are no surprises when it comes time to file tax paperwork to the government.
Call us today at 1-800-626-4829 or contact us here for details