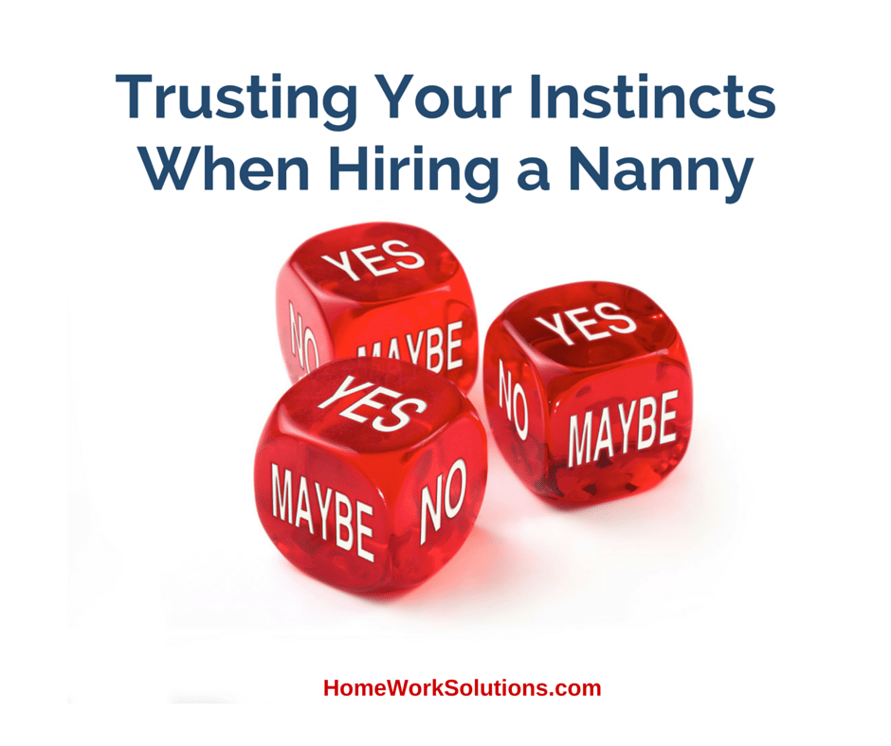 Your gut instincts are a powerful tool to help you hire the best nanny for YOUR family.
Finding the right nanny is an incredibly important decision for any working parent. Whether you're considering hiring a part-time nanny, a live-in nanny, or someone to offer just a few hours of childcare each week, it's critical to find an attentive caregiver that you can trust completely. When you're hiring a nanny, it is your responsibility to ask all of the questions that you can and try to get to know the potential nanny as much as possible. But it's also important to listen to your intuition and trust your gut instinct. But in addition to that, when you are following your gut you can't completely ignore other things – there are some other big things that you need to pay attention to.
Tip #1: Don't let emotion be the guiding factor.
Instant sparks are great, but letting your emotions guide you throughout the process of hiring a nanny can be detrimental. First of all, make sure the candidate that you are meeting has all of the hard skills that you're looking for. They need to have experience, expertise, and solid references. If you let skills like humor and personality be the guiding factors, this could be a bad decision in the long run and could cause a bad situation later.
Tip #2: Remember your first impression of the candidate.
First impressions are important when it comes to hiring your nanny. Of course, give them a break for interview nerves that they probably have, but after a few minutes, they should be more relaxed and be able to communicate clear answers to your questions. Pay attention to how they're interacting with you – are they making eye contact? Was the handshake weak or firm? What's the body language telling you? Verbal and non-verbal cues are important and will help you when it comes to listening to what your gut is telling you.
Tip #3: Always listen to your gut, even if other factors are lining up.
If the candidate has great credentials, solid experience, and hits it off with your kids, great! But what if you have a nagging feeling that something isn't quite right? This is a gut instinct that you should never ignore. Follow through with the background check process and look over all the data that is presented to you. Don't skip any steps assuming that everything will be fine. Your children's well-being is worth doing the extra research and following what your initial thoughts and instincts are saying.
Your gut will almost always steer you in the right direction. Pay attention to what it's telling you, so don't ignore it.