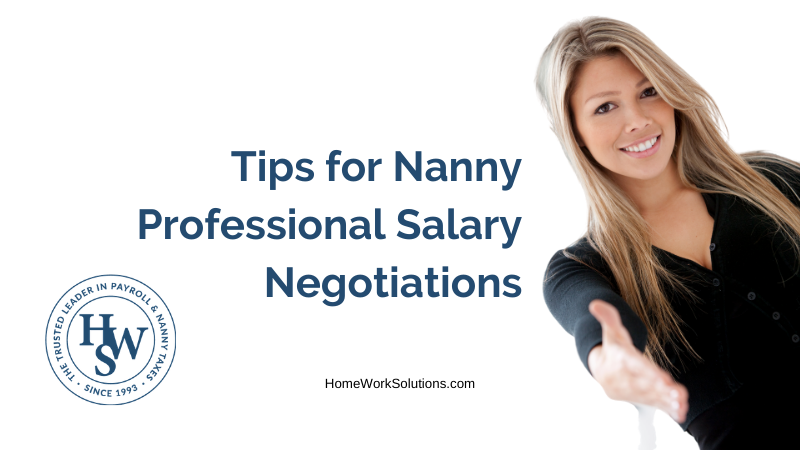 If you are looking for a new nanny position, you will likely be weighing the various factors of the job. Salary, location, and benefits are some of the main things that you will considering before you apply for a job, but when it comes to interviewing and negotiating a salary, you should understand gross versus net pay. Knowing the details will help you budget and plan for your various financial needs and will help you determine which position is right for you. Here are some important must-knows.
#1: You are an employee.
Working as a nanny means you are an employee, not an independent contractor. If the family you are interviewing with suggests paying you "under the table", know that this is illegal and should not be done. It might seem like it's easier for them to pay you this way, but you are not protected that way. If you ever choose to file for unemployment and you have been paid off the record, you will run into some trouble. Not to mention, your employer could be subject to hefty fees or fines from the government.
#2: Know what gross versus net pay means.
Gross wages refers to the amount of money that you earn before taxes are taken out. Net pay is what you take home. When a family makes you a salary offer, they are generally making you an offer in gross wages. They won't know what your take-home pay will be until you fill out appropriate tax paperwork, including your federal W-4 form. The taxes that will be withheld include federal income tax, Medicare tax, and social security.
Did you know you can trade off some wages and have your employer pay some or all of your health insurance with pre-tax dollars? Your cell phone bill could be a benefit too. Do you commute to work on public transportation? Your employer can reimburse some or all of that with pre-tax dollars too. Working towards a college degree? Tuition reimbursement can be pre-tax too! Every dollar used for a pre-tax expense saves both you and your employer money in taxes, and allows your employer's nanny budget stretch further to meet your compensation goals.
#4:Know what goes into your paystub.
Once you have been hired, make sure your pay stubs are itemized. These are some of the main things you should look for in each payment.
Date of wage payment
Dates of pay period covered by the payment
Gross wages paid
Net wages paid
Hours worked during pay period
Deductions from wages
Any additional payments or bonuses
Your wage is a big part of your job search! So, before you head into your nanny interviews, it is important to have a good understanding of how to best structure your compensation to meet your financial needs and (hopefully) stay inside the family's budget.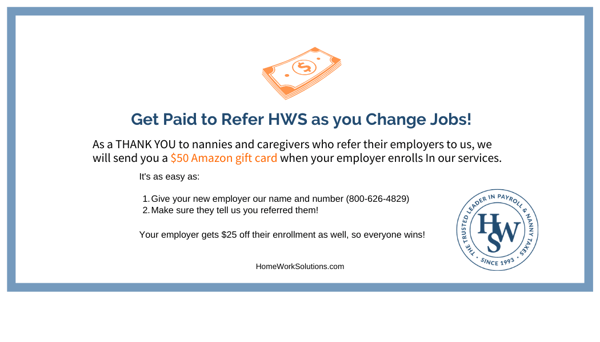 Still unsure of how it will all work? Our payroll specialists can help answer questions so you will know exactly what to expect. We offer free compensation consultations for you and your new employer, and if you refer your new family to HWS for payroll services, we are happy to thank you with an Amazon gift card!