Whether you're a mom, dad, grandparent , or guardian, the children in your life are some of your greatest treasures. Finding the right person to love and care for them is significant and hiring a qualified nanny to work in your home requires some research. Here are some of the most important things you should know before hiring a long-term nanny.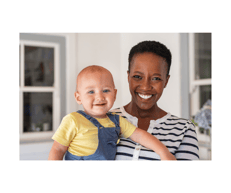 #1: Know what you need.
Every family is unique, which means your childcare needs will be unique too. Understand your family's needs and make a list of expected duties and responsibilities you want a nanny to have. Then, think about the qualities you're looking for in a nanny. Do you want someone young and energetic that may be just starting their nanny career? Maybe you would be more comfortable with someone experience, who has worked with multiple families during their career. Know what you're looking for, and let that help guide your search.
#2: Know that they're not independent contractors.
Most of the time, nannies are not independent contractors. IRS Publication 926 states if you set control the work schedule, you probably have an employee. On the other hand, independent contractors designate when and where they want to complete their job duties. They also assume their tax responsibilities and take financial risk in advertising their services. As a household employer, you are responsible for withholding proper state and federal taxes, so plan ahead when budgeting and stay in compliance with employment tax laws.
#3: Create a work agreement.
All the job details you and your new nanny discuss should be in writing. This ensures that there are no disagreements or confusion later. Some things you should include in your work agreement are:
wage and benefit information
pay schedules
specific job duties
termination clause
confidentiality agreement
If you've never written a work agreement, our team at HomeWork Solutions can help! We also offer a downloadable work agreement template that can help get you started.
#4: Understand what it takes to keep a long-term employee.
As with any job, ensuring employees are compensated fairly and treated with respect is vital. Stay in communication with your nanny about what resources they need to do their job well. You can also consider providing generous benefits or raises, which can help with retention. Ideas could include regular bonuses, paid time off, healthcare or mileage reimbursements. All of these play into giving your nanny a higher quality of life and greater job satisfaction.
Once you hire your nanny, our experts at HomeWork Solutions can manage all filing for payroll and taxes for you. Our service plans are customizable, so you can find the one fit for your specific situation. Contact us today!