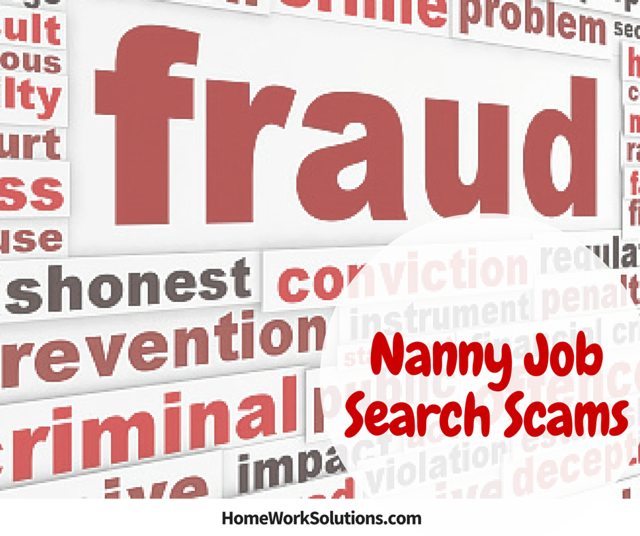 The online nanny job listing services like Care.com can be an efficient way to match with families seeking care, and put you in charge of your job search. The online nanny job listing services, however, need to be approached with caution, and knowing the common scams and issues is important when you pursue that route.
Predators: many nannies looking for work online are young women, and predators find this an attractive route to find their prey. Do consider holding your first meeting or interview in a public place, or at a minimum have a trusted friend in the loop as to who you are meeting, where, when and establish a check in time after the meeting.
Money Scams: These are as old as the online nanny job sites, and the scammers continue to find victims, or they wouldn't keep going. A great example of this is described in this news story. Don't ever cash a check that you didn't earn to help someone out!
Mother died in a tragic accident: Could it happen? Sure. But beware - do your due diligence and never accept a job until you have interviewed and met the parent and children.

Salary and hours too good to be true

: You will not find a job online that is from 9 am until 1 pm at $40 an hour. It doesn't happen!
Some red flags that might indicate that the story or nanny job are a scam include:
Moving from overseas and needing help with paying the movers.
Broken English - many scammers are actually located overseas, and English is their second language.
A pitiful story - mom died, child with cancer, household goods lost in transit.
They cannot answer your questions in detail, or the details change. It is true that liars have problems sticking to their story!
You are offered the job without an interview.
In short, don't accept money, send money or deal with anyone who asks you to do so. Keep your personal identifying information personal until after that all important in-person job interview. And by all means interview carefully, in a public place if possible, or with a friend parked in the driveway! Responsible online job listing services take care to keep predators off their sites, but every time they plug a hole someone finds another way in! Don't become a victim!