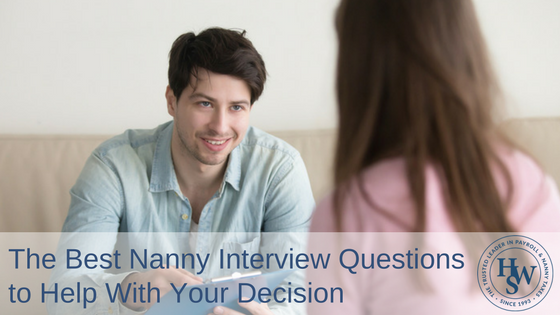 Finding the right nanny for your family takes a lot of preparation and planning. It's best to head into interviews armed with a list of questions for the prospective nanny. This way, you'll be able to leave with notes about the candidates for comparison.
For those who make it past the initial interview, you'll want to conduct a caregiver background check, and there are a few specific questions you'll want to ask their references, too.
The tips for interviewing a nanny can help you create a nanny interview checklist of helpful questions to use throughout the process of finding the right candidate for you and your family.
Interview Questions for a Nanny
The Essentials
The preliminary nanny interview questions get the nitty-gritty details out of the way. You may have covered some or all of these on the application itself, but if not, they should include:
Do you have a driver's license?

Are you certified in CPR?

Have you ever been arrested or convicted of a felony or a misdemeanor?

Have you ever been the subject of a substantiated complaint of child or sexual abuse?

Are you willing to take a TB test?

Would it be alright if I ran a background test on you?
The Basics
These questions help flesh out details about the the prospective nanny's past experience and qualifications. You'll want to know:
How long have you been a nanny for?

Can you describe the details of your last position in depth?

Why did you leave your previous position?

How old were the children you've cared for in the past?

Do you have any formal training/education in childcare or early childhood development?
The Details
Bringing a new person into your home is no small matter, and even the most qualified nanny might not be the right fit for your family. You'll want to ask some more qualitative, personal questions to gauge the fit. Some examples are:
What is your favorite part about being a nanny?

What are your beliefs about raising children?

Can you describe your ideal family to work with?

If the roles were reversed, what would you be looking for in a nanny?

Can you give me examples of how you've dealt with difficult scenarios in the past?

What are your favorite activities for children of this age?

How do you believe in disciplining children?

How do you deal with comforting children?

How would you keep my children safe at home?
The Logistics
If you like all the nanny's answers so far, now is the time to get into detail about how the day-to-day would run. Be sure to discuss if you have a live-in arrangement in mind, and ask whether or not that is feasible. Also make sure to ask:
What are your salary expectations?

Will you be available to work weekends, overnight, or irregular hours if needed?

Are you willing to do light chores along with childcare?
Questions For Their References
A nanny's references can offer you a unique perspective on the candidate. The most useful reference would be a family for whom the candidate has worked as a nanny in the past. Consider asking:
How long did you employ the nanny?

Why did she leave?

What did she do best?

Did she perform other duties beyond childcare?

What did your children think of her?

Would you recommend her as a nanny? Why or why not?

Do you have any advice for me in choosing a nanny?
Find the Right Nanny
Hiring a childcare professional is a commitment, and it's one that shouldn't be taken lightly. It's far better to ask too many questions than to ask too few. Asking these nanny interview questions is a good way to get a better idea of who a candidate is as a person and as a professional, and how she will work out in your home. Taking the time to ensure you have the ideal fit could save you a lot of time and trouble down the road.
HomeWork Solutions specializes in payroll and tax compliance for those who employ household workers like nannies. Once you have selected a nanny, we can help ensure that she is paid on time and in compliance with all tax regulations.
Get in touch with us
today to learn more about what we offer.
---
Request a Free Telephone Consultation for Nanny Budget Help
---