Hiring a nanny is a very personal decision that requires research. Investing time in interviews to get to know potential nannies and their experience is key to finding the right match. Fortunately, there are a few different types of specialty nannies out there that have specific areas of expertise.
Newborn Care Specialist (NCS)
These types of nannies have specific training in newborn care and/or nursing. Many times, they provide 24-hour childcare service for families that have just welcomed a new baby into their home. Newborn Care Specialists are generally hired during the first few weeks or months of the baby's life and some of them specialize in sleep training. An NCS can be beneficial in helping a family establish new methods that teach babies (and their parents!) healthy sleep patterns. It also gives new parents a break to rest or opportunity to catch up with things at work or around the house.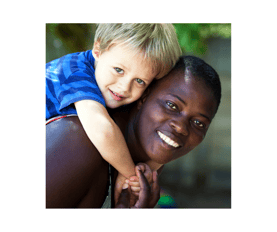 Travel Nanny
Some nannies are available to travel with a family to provide care while on vacation or on a work trip. If there is an extended stay planned, nannies are often brought on the trip to provide an extra hand with the kids. Living arrangements and hours of work during the trip will vary from family to family. However, many times a separate hotel room or apartment is provided for the nanny and the childcare schedule and other expectations should always be discussed in advance.
Temporary Nanny
Some nannies focus their services only on short term work for families. They are often available to provide emergency care in case your regular nanny is unavailable due to vacation or illness. Whether it's just a couple of hours a week for a few months at a time, or occasional backup care, having a temporary nanny available to call for reliable and compassionate childcare services can give you the peace of mind you need.
Special Needs Nanny
For families who's children require individualized care and attention, special needs nannies are a great option. Nannies for special needs children usually possess additional training or experience with autism, sensory impairments, behavioral or emotional disorders, and more.
If you have a special situation and a nanny position requiring a unique skill set, consider contacting a Nanny Agency in your area. The Association of Premier Nanny Agencies (APNA) is a great way to find a reputable and experienced agency to assist with your search. APNA Agencies have seen it all before, and they just might know exactly the right candidate to meet your needs!
Once you have found the right person to hire, our experts can help you get all of the payroll and tax details sorted out. Paying your nanny legally is always the right choice! It not only guarantees that your employee will be covered in the event they lose their job for no fault of their own, but it also ensures you don't need to worry about paying fines or penalties and interest for unpaid taxes. If you aren't sure you have time to figure these details out, contact HomeWork Solutions for help. We will file payroll and taxes for you, so you don't have to lift a finger.