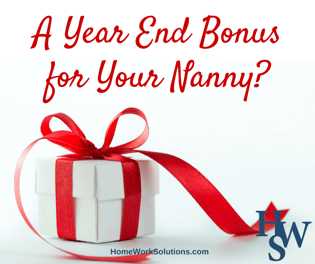 The end of the year is coming and the holidays are approaching. For many employers, this is a perfect opportunity to provide a year-end bonus – incentive pay that goes above and beyond the regularly provided salary. Has your nanny done a great job for your family this year? You may be wondering if you should provide a year-end bonus to your nanny for a job well done. While a bonus is never required, it is very common that families provide their nanny and/or housekeeper a end of year bonus. It certainly is a gift that would be appreciated. There are several creative ways that you can show your appreciation to your employee.
What type of bonus should I provide my nanny?
Providing a bonus is a personal choice and one that is different for every family. According to the International Nanny Association's 2014 INA Salary and Benefits Survey, 60% of nannies received a year-end bonus in 2013.
Cash bonuses are always appreciated and can range in amounts. The most common amount is one, sometimes two weeks' worth of wages. Of course, you can give more than this – it is dependent on your budget as well as the nanny's overall performance for the year. You could also consider giving the nanny a gift card to your employee's favorite store or restaurant, spa, or other place that she would enjoy. In addition, instead of money, a common type of bonus comes in the form of additional time off. Offer your nanny a few extra paid days off around the holiday and let her know ahead of time so she can make plans if she wants. Occasionally, an employer can make an additional contribution to a nanny's retirement account, but this is something that you should discuss beforehand.
How does a bonus factor into end of year tax reporting?
Remember that when it comes to bonuses, you will need to provide proper documentation for the IRS when it comes to tax time. Any type of bonus needs to be reported on your employee's W2. Not sure how to calculate this into reports? Contact us with any information or questions you have. Our household payroll specialists can walk you through the process.
If a monetary bonus isn't in your budget this year, consider a small and simple gift to recognize your employee. A handwritten thank you note or a framed picture or drawing from your children are great ways to show your nanny that she is cared for and appreciated very much!