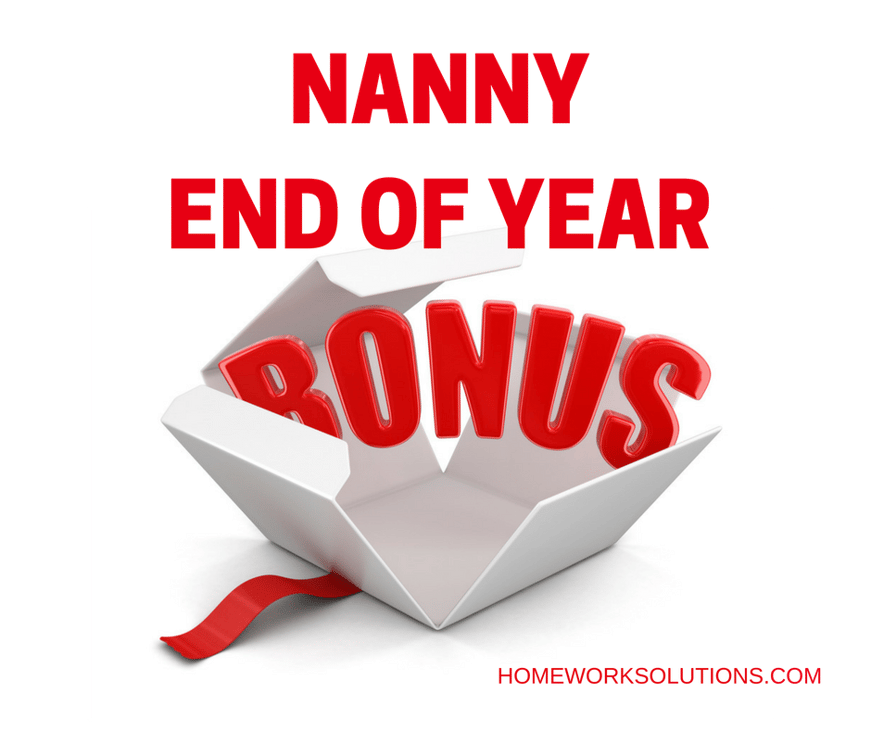 Your nanny has worked hard for you all year and you may be wondering if a year-end bonus is warranted. You ask around the office and the answers are all over the place. While a clear majority of nanny employers provide additional compensation or paid time off at the end of the year, many families like you are uncertain about what is customary.
The annual year end bonues a great opportunity to show your nanny that you appreciate everything that she has done to go above and beyond her regular duties. While an end of year bonus is not required, to your nanny a gift of recognition is always appreciated.
What type of bonus should I give to my nanny?
Offering a bonus is an individual choice and may look different from family to family. Cash bonuses are always a great idea and can range in amounts, from small to large amounts – up to two weeks' worth of wages. This varies, especially on your specific budget and how well you believe your nanny performed throughout the year. Generally speaking, newer nannies get a day's pay for every month of service and full time workers can get one to two weeks of pay as a bonus. If a cash bonus isn't an option, consider giving your nanny extra paid time off around the holidays and be sure to give her enough time in advance so she can plan ahead. Or, you can decide to make an additional contribution to her retirement account, or give her a generous gift card to her favorite store, restaurant, or spa.
Does a bonus factor into taxes?
In short, yes – bonuses will factor into end of year tax reporting and you will need to provide proper documentation to the IRS when it comes time to pay taxes. Any bonus will need to be reported and documented on your nanny's W2. If you're unsure of how to report this or calculate it, contact us with any specific questions you have or information that you need. Our household payroll specialists are ready and able to walk you through the process so you can better understand what it is you need to do to report your nanny's bonuses accurately.
If a monetary budget isn't on your radar for this year, consider providing a small, simple gift to recognize the hard work that your nanny has completed for you this year. A thoughtful handwritten note or a framed picture from your child. A little gesture will go a long way in showing your care and appreciation.
HWS Consulted the Experts!
HWS consulted with Starla Smith of HouseholdStaffing.com, Inc. Starla is a highly experienced household staffing professional, and she encourages families to carefully consider the end of year nanny bonus.
Since most parents are active in the corporate world, nannies and babysitters are a very important asset to the family. Most families should consider giving their nanny a bonus during the holiday season as a nice way to say thanks for all of the hard work during the year. If the household feels as if the nanny is providing the highest level of care for their children, a holiday bonus should be considered. A nanny is your employee, however, and when you have an employee working in your household, it becomes personal. This person is usually with your nearest and dearest at all hours, catering to your kids every need when you cannot be present. A holiday bonus is a nice way to make both parties feel good about the elevated level of care in the home. For a bonus, I would suggest a weeks worth of salary and a small present from the children. Remember: It's the thought that counts. Your nanny will greatly appreciate your thoughtful gifts, and it is just another incentive to stay with your family.