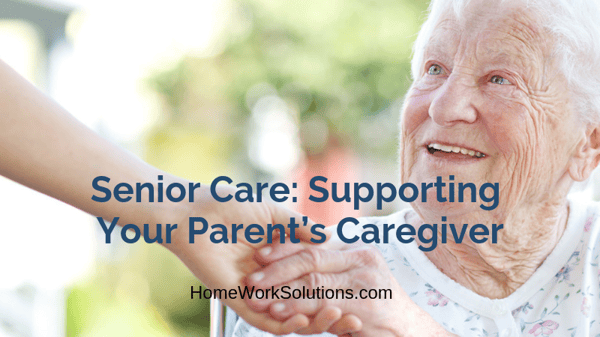 If you have hired a caregiver to help your aging parent with day to day care, you likely know that some days can be more challenging than others. Being a senior caregiver comes with rewards, but it can also be a difficult and stressful job. Supporting your caregiver goes a long way. Here are some tips on how you can support your parent's caregiver for the long haul.
Tip #1: Build solid communication
There are many different situations that can cause anxiety or stress for your caregiver. Perhaps your mother or father is not cooperating, your parent is resisting needed care in bathing or dressing, or there is a significant cognitive decline happening with your loved one. These things happen regularly for caregivers attending to elderly patients, but it does not minimize the stress that it can cause day in and day out. To ease that, make sure your caregiver knows that you are there to listen. Make sure she knows that the lines of communication are always open and that you're willing to talk about any issues that may arise. Many supervising adult children regularly text or chat on the phone with their parent's caregiver - this caregiver is there eyes and ears when they cannot be physically present. Ask her what she needs or what she has questions on. In addition to helping provide necessary information for your caregiver to do her job, solid communication is key to maintaining a great working relationship and minimizing confusion or misunderstandings.
#2: Take action
Being a caregiver can be an exhausting job. If you notice stress or exhaustion coming from your caregiver, take action and do something nice. This could be offering to step in and participate in taking your loved one to their doctor appointment, or it could be as simple as stepping in to make a meal or do some grocery shopping. Or, offer to stay with your loved one for the day or afternoon so you can let your caregiver have some time off. Having a little time away can make a big difference in reducing stress and reenergizing your caregiver.
#3: Stay involved
Make sure you stay involved in the care that your loved one is getting. Stay in the loop on what has happened each day and ensure that your caregiver knows that you want to be involved in your loved one's day to day life. Showing your support and care for your loved one as well as your caregiver can go a long way.
Senior caregivers have an incredibly important job and need to feel supported and appreciated, just like any employee does in a career. Communicating, showing up regularly as a support person, and taking action on doing little things to show that you value their efforts, can speak volumes to your caregiver and keep them energized to keep providing great care for your loved one.