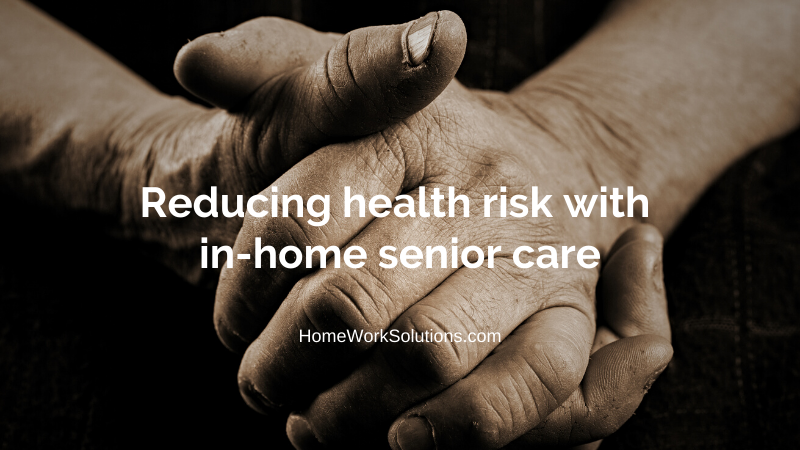 With coronavirus cases still on the rise around the world, many people are continuing to socially distance themselves or reduce their time in public to help minimize exposure and spread of the virus. Unfortunately, many long-term care facilities have seen high amounts of deaths and illnesses related to the pandemic. In light of the continuing social lockdown of these facilities and the forced separation of residents from their families and loved ones, many seniors and their families are rethinking living arrangements and researching how to age safely at home.
When it comes to taking care of elderly loved ones, it is especially important to protect them from COVID-19 exposure. That is why many people are considering the benefits of in-home care and aging in place. Here are some additional reasons why considering in-home caregiving assistance can reduce health risk.
#1: Care is done by one person.
Hiring an in-home caregiver to take care of your loved one means they will be only seen and taken care of by that one person. You will not need to worry about the staff shift changeover that would normally happen at a long-term care facility. The simple fact that your loved one will only be working with one person each day means they will have reduced exposure and less risk of contracting harmful viruses like COVID-19.
#2: Quality of care.
Long-term care facilities are often crowded and cannot offer the personalized one-on-one care that an in-home caregiver can provide. This type of attentive care at home not only goes a long way physically for your loved one, but emotionally as well. Loneliness, grief, and boredom can take a toll on emotional wellbeing, and having a caregiver that they come to know and trust can provide the quality of living that your loved one needs and deserves. Oftentimes a larger care facility simply cannot provide that type of time and attention to one patient on a consistent basis.
#3: The ability to watch for new health conditions.
Many times, new health conditions or sickness happens with mild symptoms. These can be easily overlooked at a busy long-term care facility. However, personal professional caregivers are trained to monitor slight changes that could mean a doctor's visit is in order. If that ends up being the case, your caregiver can assist in getting them to the doctor in a safe and timely manner.
At this challenging time in the world, families all over are trying to find ways to stay safe and healthy. Hiring an in-home caregiver is one way you can ensure your elderly family member stays as risk-free and healthy as possible. Once you have found the right caregiver to work in your home, contact our experienced team at HomeWork Solutions to help ensure their payroll and tax deductions are set up properly.