Are you thinking ahead to summer? Before you know it, your kids will be out of school for an extended time. Between summer camps, vacations, and outside playdates, there will be many different activities to fill up the free time. Hiring a summer nanny provides a helping hand, minimizing the stress associated with disrupting your daily school routines. Here are some reasons why you should consider hiring a nanny this summer.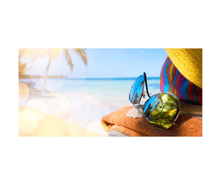 #1: Entertainment and learning opportunities.
An energetic nanny can help fill the kids' days with lots of fun adventures and outings. Whether it's a day spent outside exploring different neighborhood parks or traveling around the city to various museums, your nanny can customize your children's activities around their multiple interests.
#2: Help with transportation.
If you have limited vacation time at work and are struggling to figure out how you will get your kids to and from their music lessons, sports practices, doctor appointments, or other planned summer activities, a nanny can help! They can get your kids to and from their various places reliably and on time.
#3: Extra household help.
Depending on the specific hiring arrangement you have with your nanny, they can also provide an extra hand around the house. Maybe that means prepping for dinner or folding some laundry. Perhaps they can help with some cleaning, pet walking, or other household organization. Summertime is busy, and a helping hand can help minimize your workload and reduce stress. Just be sure these tasks are written into your work agreement, as no one likes added responsibility without extra pay!
#4: Relationship building.
Nannies will be there for your kids. A nanny you trust gives your kids the opportunity to build a loving relationship with another positive adult role model. Not to mention, having a great nanny means you may have someone you can call on later in the year if you need help, and they are available.
Once you have found the perfect temporary nanny for the summer, it's helpful to set up a written agreement or contract between you and your employee. Also, don't forget to factor in the tax obligations that come with her employment. If you are unsure how to withhold the proper amount of taxes from her paycheck each month, the experts at HomeWork Solutions can help! We will ensure things are deducted and filed correctly so there will be no hidden tax surprises later. We'll get you registered with the IRS and state tax authorities, and check to ensure your nanny is paid accurately with the right amount of taxes withheld. We have flexible, customizable service plans, so you can find the one that's right for you.
Contact us today at 1-800-626-4829 or info@homeworksolutions.com to learn more so you can be prepared to pay your nanny transparently starting on their first day of employment.