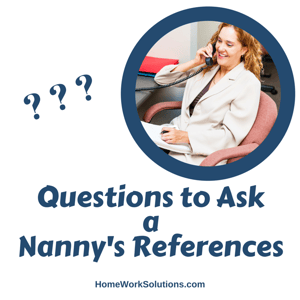 Hiring a nanny is one of the most important decisions you will make as a parent. If you have narrowed down a few candidates for the nanny position, it is imperative that you find out as much you can about the person. The more information you have, the better decision you will be able to make. Not sure what questions to ask nanny references? This article can help.
Marc Lenes, owner of Wee Care Nanny Agency in Stamford CT says, "It is vital to personally meet and really get to know your potential nanny. Together, you should go over a detailed employment application and zero in on gaps in work history, discuss previous nanny jobs at length, and gauge responses to gently probing questions. With this information in hand, you are better prepared to phone past employers to verify length of employment, work schedule, reliability and trustworthiness."
Nanny Reference Red Flags
Lenes goes on to say that when you're looking at the references, it's important to look out for some common red flags, which can include:
Past employers who do not have a land line or business phone number, but can only be reached via cell phone, email, text, or social media
Tenuous explanations for wide gaps in employment
Past employers who do not reside in areas employing a high concentration of nannies and other domestics

Those that are unwilling or unable to provide authentic state and federal photo identification
Once you have identified that the sources provided are good, it's time to pick up the phone and have an in depth conversation about the candidate. Have some questions prepared ahead of time rather than just thinking of things as you go. This will allow you to maximize the time that you have with the reference and focus on topics or issues that you have particular interest in. Here are some potential questions you should ask the references.

Nanny Personality Questions
What are the nanny's strengths and weaknesses when it comes to working with children? What areas should the individual improve on?
Was the nanny approachable and open to feedback/suggestions when you brought up the issue?
How would you describe the nanny's personality and temperament? How would you rate the individual's maturity, responsibility, and ability to communicate?
Questions regarding the ability to manage children/family tasks
Is there a time or example that you can think of when the nanny needed to discipline your child/children and how would you describe that interaction?
Was the nanny ever distracted at work or was there any issue with how the individual performed and completed job tasks?

Did you and the nanny agree on discipline measures and if not, how did you reconcile these differences?
Safety questions
Was there any emergency situations where your nanny needed to call 911 or take the kids to the doctor or emergency room? If so, please describe that in detail.
Did you ever feel uncertain about leaving your kids with this nanny or were there any safety breaches that you needed to discuss with the individual before coming back to work?
Close the round of questioning with a final question that asks if they would consider hiring the nanny again if the opportunity arises. This will be pretty eye-opening answer. Once the phone calls are done, sit back and reflect on what the references said. Were most answers positive or negative? The goal of checking references is to make you feel comfortable and assured that this person is the best fit to take care of your children. Listen to your best judgment and if your gut instinct doesn't have a great feeling about it, then it may not be the right fit.