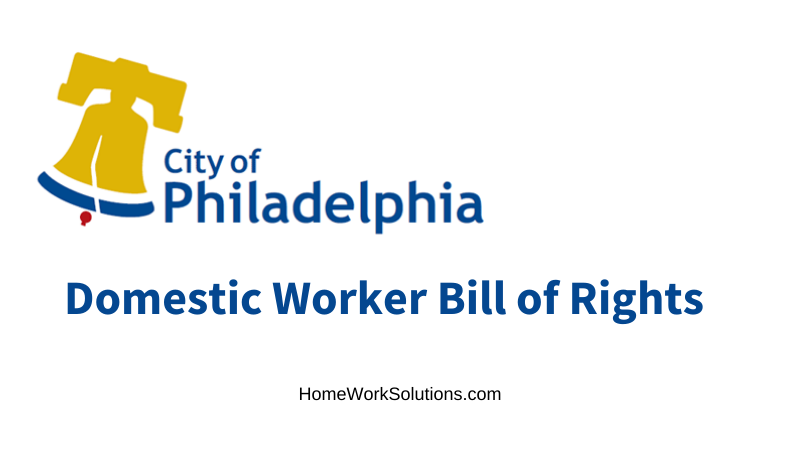 The City of Philadelphia joins 10 states and two other cities with legislation known as a Domestic Worker Bill of Rights. This legislation is part of a decade long community level movement nationwide to establish basic worker protections to the growing domestic services industry. While the numbers of nannies and housekeepers remains stable, the in-home senior care component of the domestic services field continues to experience vigorous growth as aging baby boomers overwhelmingly prefer to "age in place," therefore requiring senior caregivers to help them remain safe and independent.
The Philadelphia legislation becomes effective in May 2020.
Mandatory Employment Contracts: The City will publish contract templates, and any household employee employed by a family who does not enter into a written contract with the worker will be presumed to be working under the city's contract template.
Establishes a portable Paid Time Off scheme: Workers accrue one hour of paid time off for ever 40 hours worked, and employers must contribute for all household employees who work five or more hours per month. Hours accumulate in a common pool for workers with multiple employees (details for this will need to be published_.
Notice of Termination: Establishes a minimum 2 weeks notice for live out domestics, and 4 weeks notice for live in domestics,; or full pay in lieu of the notice.
Meal and Rest Breaks: Workers will be entitled a 30 minute off duty rest break after 5 hours of work, or if unable to be relieved of work, compensation for the missing break. Additionally a 10 minute off duty rest break must be available for ever 4 hours of work, or again pay in lieu of the break if it is not off duty. This means a nanny working a 9 hour shift would have 50 minutes of meal and rest breaks. If she is unable to be relieved of duty (this means free to leave the premises, another adult is responsible for child care during this time) the employer must pay an additional 50 minutes of time on each shift.
Mandatory Record-keeping: Employers are required to keep detailed records of hours worked, pay rate, leave time earned and used and the existence of a written contract. Federal law mandates that employers also maintain records of deductions from paychecks.

Enforcement:

The Mayor's Office of Labor will enforce the bill, and there is explicit anti-retaliation language that can be enforced.
Misclassification
It is important to understand that the vast majority of household workers - nannies, senior caregivers as well as housekeepers and maids - are employees. Generally the entity paying the worker is the employer. Families who attempt to circumvent the laws by claiming their nanny or caregiver is an independent contractor run the risk of being pursued for misclassification.
Misclassification is the abusive practice of treating an individual who is an employee under the law as an independent contractor. This is abusive because the worker as a result is denied the protections of workers' compensation, unemployment insurance, and wage and hour protections. Philadelphia and Pennsylvania as a whole participate with the US Department of Labor's information sharing initiative, initiated under the Obama administration, to facilitate enforcement against employers participating in misclassification. Enforcement generally involves pursuit of all back federal and state taxes, obligating the offending employer to fund even the taxes they should have collected from their employee.
Wage theft is closely related to misclassification, and is the practice of not paying workers for all hours worked, not paying legally required overtime, or making improper deductions from your pay. Philadelphia's DA Larry Krasner's task force on Crimes Against Workers is focused on criminal prosecution of employers who knowingly practice wage theft and/or misclassification.
Bottom line - Philadelphia household employers need to educate themselves regarding their employee's rights and their responsibilities under the Philadelphia Domestic Worker Bill of Rights, as the political climate both locally and in the US Department of Labor is focused on worker rights and worker abuses, and wage theft and misclassification costs workers and the government on all levels substantial levels of income, income the taxing authorities are anxious to recoup.