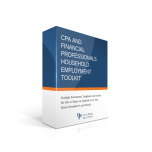 Tax accountants know the complexity needed to meet the everyday demands of their clients. While many tasks are routine, others are complex tax matters that allow the individual tax accountant to demonstrate their deep subject matter expertise. Increasingly, accounting firms opt to outsource time consuming, non-revenue generating activities to help maximize efficiency, minimize operating costs, and gain competitive advantages. Often times, the decision to outsource certain activities is largely driven by the opportunity to reallocate resources internally to focus on the more complex, profitable client engagements. When it comes to nanny payroll and tax compliance, outsourcing to HomeWork Solutions can be incredibly beneficial.
Deepen the firm's value to your client by delivering effective solutions
There's no doubt about it: payroll and tax reporting for families with household employees can be time consuming and sometimes extremely complicated. Clients need lots of hand-holding, particularly when it comes to obtaining identification numbers and calculating tax withholding. If you consult with a household payroll specialist, you will position yourself in a way that provides well-rounded solutions for clients that have nannies or other in-home employees. These specialists can provide pertinent information on wage and overtime laws and terms, in addition to recommending a flexible solution to meet your client's needs. Looking for direct deposit – we've got you covered! Rather pay them yourself and process an after-the-fact payroll – no problem!
Outsourcing will help free up time for you take part in high value engagement.
What activities will improve your life? What activities will take some of the stress out of your day and improve the well-being of yourself and your business? Freeing up time to engage in activities that encourage you, fill you up, and interest you is very important. If outsourcing will help alleviate some of the complicated tasks that come with tax preparation for clients with household staff, consider what that would look like and if it would help you long term.
Outsourcing gives you the benefit of additional experts on your team.
Outsourcing this portion of tax preparation will give you the confidence that the nanny taxes will be calculated correctly and filed on time. Not to mention, you're given exclusive access to the knowledge and expertise that comes with working with an experienced household payroll specialist. Outsourcing nanny tax services can help make the tax preparation process seamless and simple.
Outsourcing isn't right for everyone, but as demonstrated above, planning ahead and working directly with a household tax preparation specialist can help you save time and avoid unnecessary stress.
Learn More...
Fill out the short form below and schedule a phone call!
Comment