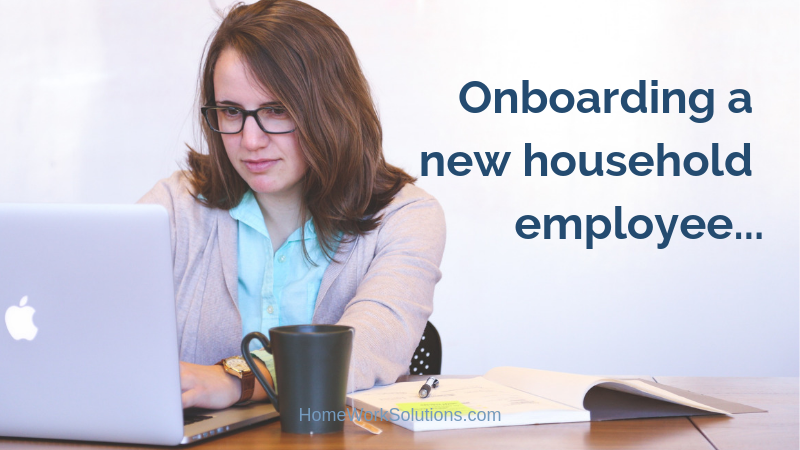 If you are considering hiring a new household employee, chances are, you are thinking about the many details that are involved with that. Opening your home and entrusting your loved ones to a new person is a big step and one that should be taken seriously. There should be much research and caution used. Here are some important things to keep in mind before you consider onboarding a new household employee.
#1: Remember to establish the employee and employer relationship right away.
Whether it's a nanny, a senior caregiver, or a cook, your household employee is exactly that: an employee. You are a formal employer and you should establish the relationship as such right at the beginning. One way to do this is by establishing a clear work agreement. This is essentially a contract that spells out employment terms including what duties and responsibilities there are, what benefits and compensation is included and any other important information on confidentiality, transportation, or severance or termination rights there are. This is your chance to put everything in writing so there is no confusion later down the road.
#2: Get a background check done.
This is a key component to the hiring process, no matter what type of employee you're looking to hire for your home. A caregiver background check will look at the potential employee's history and show you items that you would not otherwise know about, including criminal history. A background check is not something that should be overlooked.
#3: Get the proper forms.
When you hire a household employee, you become an employer and will need to take appropriate measures to get all the forms filled out to comply with federal and state tax laws. This includes a W4 form, I-9 form, and payroll direct deposit information. Overwhelmed by the types of forms you must fill out or are you simply unsure of what needs to happen to get payroll and tax information set up before your new employee starts (like new hire reporting)? Our team at HomeWork Solutions can help answer your questions so you can be sure everything is on the up-and-up before your new employee starts work in your home.
If you have never had a household employee before and you want information on how to get payroll and tax forms set up, or if you are unsure about the importance of background checks or nanny work agreements, we can help! Contact our team of specialists today for more details.
Schedule a free consultation