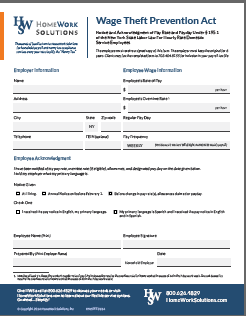 New York Governor Cuomo signed legislation December 30, 2014 that repeals the annual notice provisions of the NY Wage Theft Prevention Act (WPTA).
The requirement to give notice at time of hire provision remains intact. Additionally the penalties for non-compliance with the time of hire notice were significantly increased. An employee may now recover a $50 per day penalty, up to a maximum of $5000, if an employer fails to provide the required wage notice within 10 days of an employee's hire date.
HWS facilitates client compliance with this time of hire notification by providing all clients a PDF fillable form that satisfies the state's notice regulations.
New York households who are hiring a household worker can download this notice here. A Spanish language version is also available.
Learn more about the NY legislative action here.