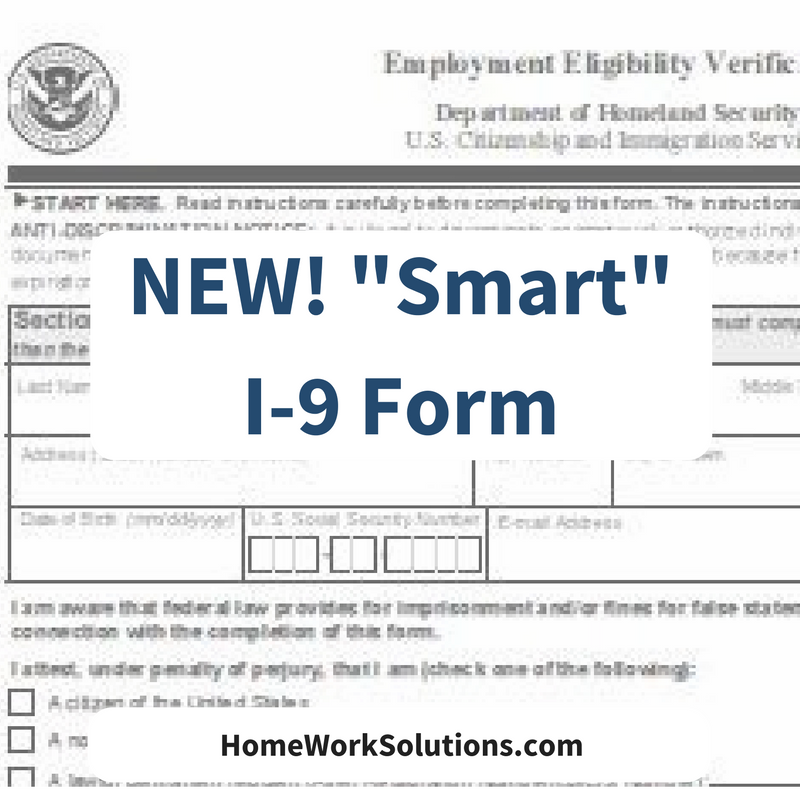 For nearly two decades the Federal Government has required that anyone - including a household employer - hiring an individual to work in the United States verify that the individual is authorized to work in the U.S. It does not matter if the empoyee is a citizen, immigrant with a green card or an alien with an Employment Authorization Document (EAD). Everyone must be checked. Employers must maintain an I-9 form on file for every employee on their payroll.
Starting this month the Department of Homeland Security requires that employer use the new "Smart I-9" form for all new hires. The older I-9 form with a revision date of March 8, 2013 is now obselete.
Update: The Smart I-9 form was released in an updated form on July 17, 2017. All prior forms are obselete effective September 17, 2017.
What is the Purpose of the I-9 form?
The I-9 form insures that the employer establish the new employee's identity and authorization to work in the U.S.
How do I get the new Smart I-9 form?
The new "smart" I-9 may be downloaded at https://www.uscis.gov/i-9.
So what is new on the Smart I-9 form?
The new form is a PDF fillable document. There are validity checks on the form fields, including smart drop downs and automatically populated N/As, to insure that all necessary items are answered and that answers are properly formatted. Additionally, there is a new comments field for employers to record special information. Interactive HELP features are particularly helpful, so you know exactly what a form question is asking about.
What else does an employer need to know?
Most importantly, the Department of Homeland Security has significantly increased the fines for missing and incomplete I-9 forms. Common errors that are subject to penalty are:
Timing of completion: An employer must require this to be completed no later than the first day of work.

Outdated documents: The new form helps you recognize when a document is out of date and no longer acceptable for verification purposes.

Failure to obtain or retain: An employer is required to have an I-9 on file for a worker from the first day of employment and for a full 3 years beyond the employee's separation.
Employers who do not have an I-9 for an employee can be fined between $216 and $2160 for a first offense, per employee. Employers who hire a non-authorized individual can be fined between $539 and $4313 for a first offense, per employee.
Related Links:
FAQ: Do I need to hire a US Citizen?
FAQ: My nanny does not have work authorization. What do I do about the nanny taxes?