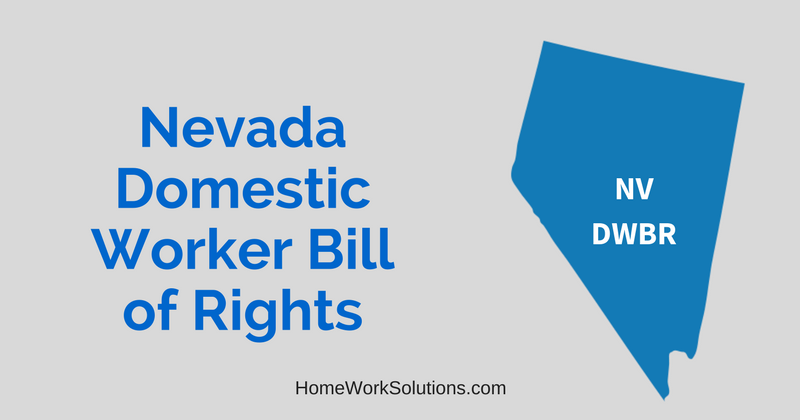 Nevada has recently passed a new law that gives domestic workers a "bill of rights." Here, we will go over the basic parts of the Nevada Domestic Worker Bill of Rights (NV DWBR) and how it could affect household employers in Nevada.
Who is a domestic worker?
A domestic worker is defined as a person that is paid by an employer to do domestic duties, such as cleaning, cooking, laundering, nannying, or someone that serves as a caretaker on a regular basis for someone who is elderly or sick. It also includes individuals that work with a third-party service or agency to provide these duties on a regular basis. The law does not apply to a person that provides these services on an intermittent basis.
What does the NV DWBR require?
A written work agreement: An employer must provide a domestic employee a written outline that details the conditions of employment as well as the specific duties that are required. It should also detail wage and benefit information, along with information about specific laws that pertain to the employment.
Minimum wage and overtime payments: The law confirms that Nevada household employees are covered under Nevada minimum wage statutes.
Proper recordkeeping: The law requires accurate and contemporaneous time tracking, keeping record of the wages and specific hours that the employee works. Recordkeeping requirements are statisfied by a complete paystub every pay period. It also requires daily overtime for live out workers paid less than 150% of the Nevada minimum wage.
Proper notification: If the employee lives in the employer's household and the employer terminates the working relationship without cause, the employer will need to provide written notice and provide at least 30 days of lodging to the employee either on-site or off-site in comparable conditions.
Deductions for meals and lodging, if made, must be agreed to in the written work agreement and are tied to the current minimum wage for calculation purposes.
Uniforms: Employers are not permitted to deduct the cost of uniforms from the domestic worker's pay.
The new law will go into action on January 1, 2018. If you are an employer that will be affected by the new law, it's important to contact a nanny tax professional right away that can help answer any additional questions about the employment law.