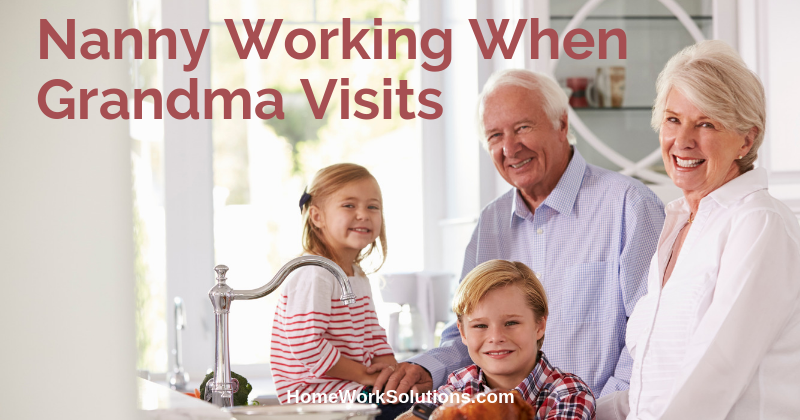 Having relatives come to visit can be an exciting thing that your children look forward to. But as the adult, it could mean that you need to do some extensive preparation ahead of time. Cleaning house and getting ahead at work so you can take some time off to spend with your family members are just some of the many details that need to come together before the arrivals happen. Preparing details for your nanny is also an important thing to remember to do. Here are some tips on how to plan for an upcoming relative's visit with success.
Tip #1: Establish boundaries.
The phenomenon of "too many cooks in the kitchen" can cause undue stress to all parties involved – you, your house guests, your nanny, and your kids! It is good to establish boundaries right at the very get go. Talk to your family members that are visiting about your day to day routines, who is in charge, and other generic house rules, so that everyone is on the same page and so your children are not confused. Remember to communicate with your nanny about what things might be a little different for the short term, so there is no frustration on her end.
Be aware that common nanny complaints are about grandparents interfering in the daily routine (see #2) or the opposite end of grandparents treating nanny like their maid, fetching coffee, doing grandparents dishes, etc. Prepare your visitors in advance about the nanny's role in your household.
Tip #2: Stick to routines as much as possible.
Routines are so important for little ones, especially when it comes to naps and meal times. Be firm about sticking to routines as much as you can. Of course, there will probably be exceptions to this on occasion since you may be out and about doing different things with your visiting relatives. However, be sure that you let your nanny know ahead of time, so she isn't stuck in the situation of dealing with a hungry or exhausted toddler after the child's sleep schedule is disrupted.
House rules should remain intact too - if you and your nanny have worked hard on social skills such as please, thank you, waiting your turn to speak and the like, do make sure your visitors know the household expectations about the children's behavior.
Tip #3: Consider reducing nanny's schedule.
If you have extra hands on board that you trust while your family members are in town, consider reducing your nanny's schedule during that time without reducing pay. This gives your nanny a much-deserved break and it also gives visiting relatives some one-on-one time with your children.
With a little bit of planning ahead of the time your relatives arrive, you'll be able to alleviate some of the stress that goes into the whole preparation and visiting time. It will also help you have a more relaxed and enjoyable time once they get here.