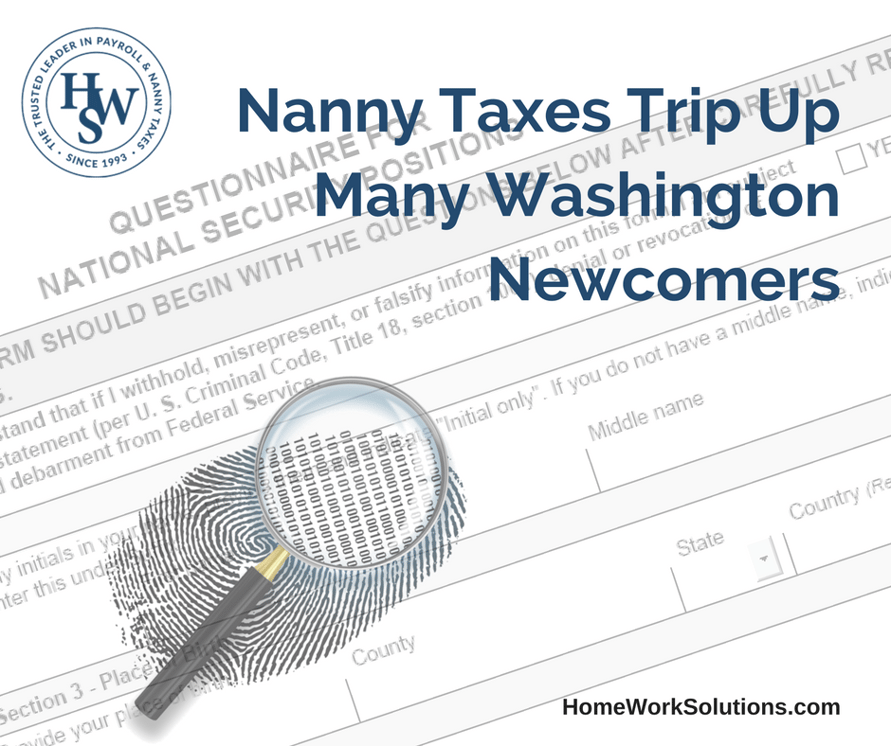 The historic 2016 US Presidential Election will bring sweeping change to Washington DC, and an expected 4,500 jobs will be staffed by the incoming president in the next two months as he establishes his team. The Presidential Transition Team is already vetting nominees for Cabinet positions and political appointees in various senior-level agency and ambassadorial posts.

If you are being considered for any of these positions, you'll be required to answer questionnaires as part of the vetting process that includes references to household employment and the "nanny tax". Questions might be something like:
Did you ever hire someone to care for your children or another family member in your home?
Did you ever hire and pay an individual to provide maid or housekeeping services in your home?
If you answer yes, you will have to prove that you complied with the nanny tax.
Applying for a job that requires a government security clearance?
Applicants will be required to fill out SF-86 [gsa.gov] (Questionnaire for National Security Positions). Question 26.3 asks, "In the past seven (7) years have you failed to pay Federal, state, or other taxes when required by law or ordinance?" A false statement on this form not only disqualifies one from consideration for a position, it is a felony under US Criminal Code (title 18, section 1001).
Over the last quarter century, many a talented individual's road to a senior-level government position has been derailed by failure to pay household employment taxes. The higher the office, the more every aspect of the nominee's life becomes subject to scrutiny and opposition research.
HWS can help!
If you have back tax obligations, or simply want to talk to someone to make sure you have been completely compliant, HWS is offering free telephone consultations – a nanny tax check up to ensure compliance.
If you do need work done, HWS can address your back tax obligations quickly, accurately, and confidentially. We have worked with clients in sensitive positions for nearly 25 years. HWS offers full household employment tax filings, including federal, state and local tax obligations, nationwide.
Don't let YOUR opportunity pass you by over nanny tax issues. You too can have a HWS household payroll expert in your corner.