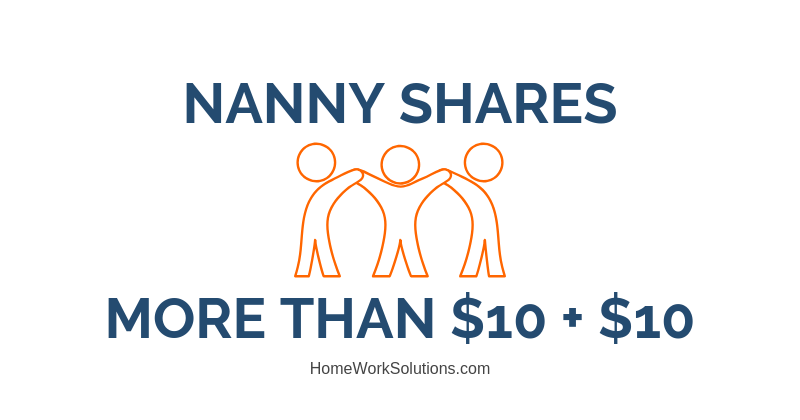 Nanny shares allow a nanny to care for children in more than one family and it can be a wonderful solution for working families in need of reliable childcare at an affordable price. Generally, two families (sometimes more), will work together to hire a nanny, splitting the cost of the nanny's full-time work. While the pay is one of the most important parts to remember when using a nanny share, there are other key factors to include in your planning.
#1: Work agreement.
Any family working with a new nanny should craft a written work agreement that outlines key details of her employment. In the case of a Nanny Share, this is a three-way agreement and should include input and agreement among the two families and the nanny. The document should address the nanny's salary, paid time off, job description, and any information about what will happen if there is an end to share agreement. The three parties involved will need to discuss these items in detail and agree to them before her employment begins. It is a best practice to guarantee consistent pay ever week, whether both families use the caregiver as planned or not, and there should be defined notice when a family plans to leave a share, or the departing family pays the caregiver for the notice period in lieu of notice.
#2: Supplies.
Diapers, food, toys, and other supplies that your nanny will need for her position as a nanny should be included. The two families will need to work together on how to split the cost of the items that your children need while you're away. For larger purchases like strollers, many times families will go in together on the purchase to help pay for it.
#3: Sick Child Care
So what do you do when one child is ill and the other is not? Nannies typically expect to care for mildly ill children. How do the two families feel about exposing a healthy child to a sick one? There is no "right" answer, but rather one that all parties can agree to.. Some families see this as a sibling type arrangement and assume the healthy child has already been exposed already. Others follow guidelines that daycare centers establish and require that a child with a fever, vomiting or diarrhea be excluded from the share until symptoms are gone for 24 hours. Do memorialize your agreement in your three way work agreement.
#4: Time off , overtime and taxes.
Vacation, sick leave, and overtime need to be provided for your nanny. This is something that the two families will need to discuss and agree upon, then propose to the nanny at the time of hiring. This should be outlined clearly in writing in the work agreement.
All families in a nanny share are considered employers and have payroll tax responsibilities.
It's important to remember that one family is not in charge of being the official employer. The reality is both families are the nanny's employers and employment taxes and other insurance needs to be included in the wage calculation. If you have questions on how to get your nanny set up properly with wages and tax withholdings, our team at HomeWork Solutions can help. Contact us today for information!