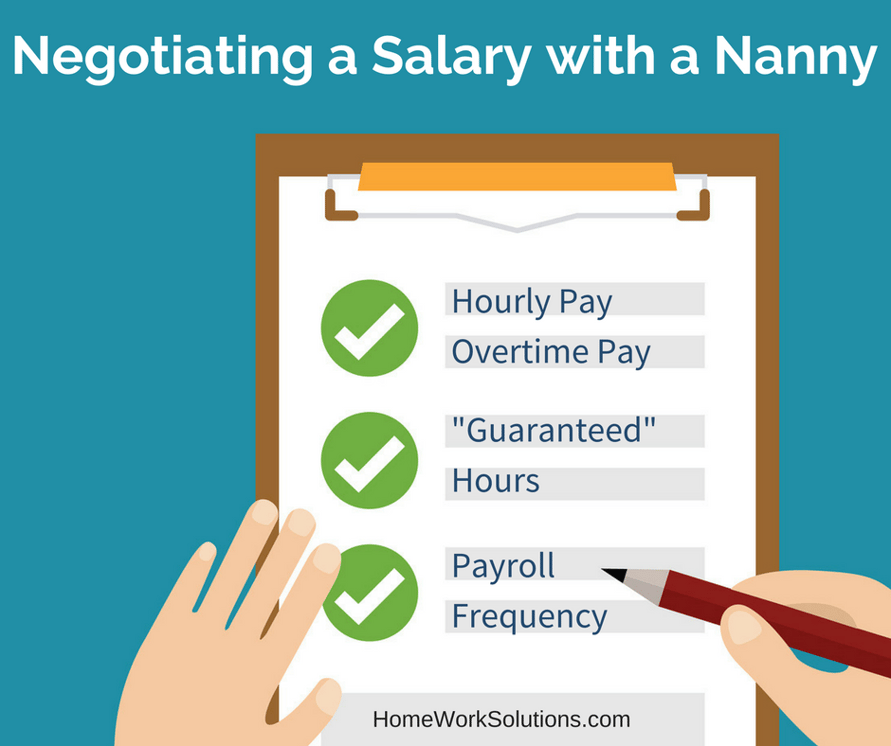 As an employer, you are required to offer fair compensation to your nanny and that means coming up with a pay rate and schedule that is disbursed on an hourly, weekly, or bi-weekly basis. If you've never had a household employee and you're unsure of what laws or other requirements surround the issue of salaries and paying your nanny, it's okay – it's normal to be a bit confused at first! Here's what you need when it comes to offering your nanny a compensation plan, as well as how to negotiate the payment with her.
Can you pay your nanny a set salary?
As an employer, you must follow parameters set by the law. The Fair Labor Standards Act states that nannies must be paid on an hourly rate basis for every hour they work and if you have a live-out nanny, you must pay them overtime if they work more than 40 hours a week. Salary, by definition, is a fixed amount of compensation paid to an employee by an employer in return for work performed without regard to the time taken to perform the work.
So, that means that by following these standards, it's against the law to pay your nanny a set salary. What is most common is to pay a nanny a "guaranteed" pay that is based on hourly and overtime pay so that she has a guaranteed number of paid hours every week, even if you don't need her for some or all of the hours defined. Not sure how to translate your desired weekly 'salary' into the appropriate hourly pay guaranteed? Our hourly rate calculator can break down what you want to pay in a week into the appropriate hourly amount and also include overtime rates.
Can you pay a nanny a salary if you include overtime as well?
You can pay a nanny "guaranteed pay" every week that includes the applicable hourly and overtime rates. While similar, this is not a true salary, as you remain obligated to pay additional for hours worked in the week that exceed the guaranteed hours. A salary is defined as a fixed amount of payment no matter how many (or few) hours your employee works. Again, in nanny employment "guaranteed pay" is the vehicle used to meet the nanny's desire for a guaranteed minimum or base pay per week, and should be calculated on the applicable hourly and overtime pay rates.
How should you negotiate a payment schedule for your household employee?
When you have decided to hire a nanny and you start working with her on a payment schedule, determine an hourly rate and base it on a defined 7 day work week. Typical hours worked in a week will vary from family to family. Sometimes it's 40 hours a week, sometimes it is more or less than that. You will need to decide on how frequently to pay your nanny. Most families choose weekly or bi-weekly pay because the overtime components of the nanny's pay are always based on the 7 day work week. Most families pay their nanny one week in arrears - meaning that work performed in week one is paid by the end of week two.
Do your research and offer what you think is a fair hourly rate, then put that into a work agreement so your nanny knows exactly what she is agreeing to. Instead of using the term salary in your paperwork, use language like "guaranteed hours" or "hourly wage" and be sure that the payment amount and schedule lines up according to guidelines that are set by the Fair Labor Standards Act.