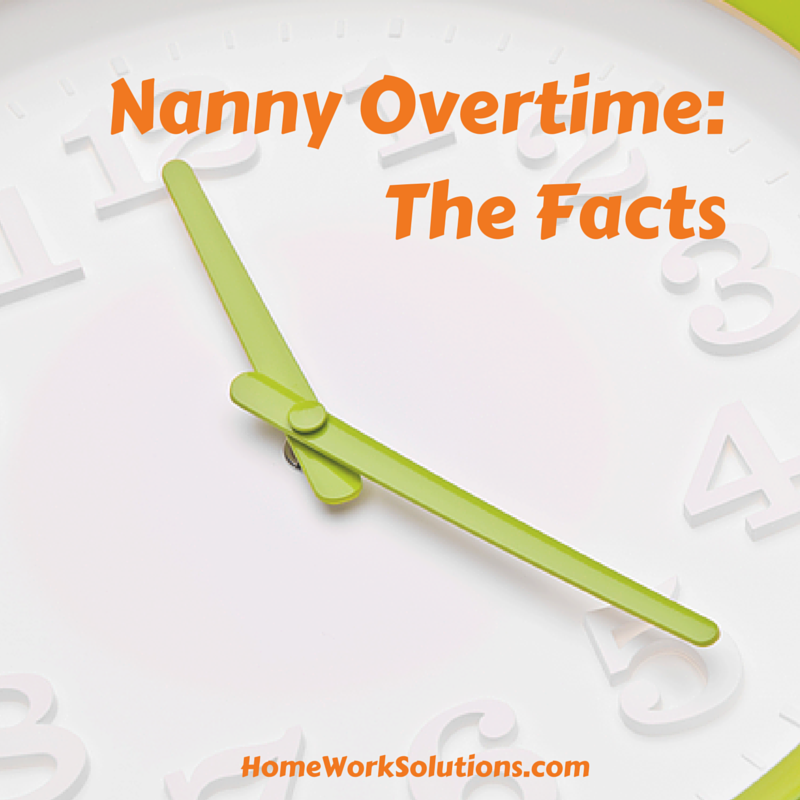 When you have found a nanny that you trust and that your kids love being around, it's a great feeling. Finding the right fit for your family can be tough at first, but once you're over that hurdle, you can begin to rely on your nanny taking good care of your family while you're away. If this means that you ask her to occasionally work more hours during the week or on the weekends, you should know the facts about paying your nanny overtime. Here are some basic 'must-know' facts about nanny overtime.
Special Update May 18, 2016: Effective December 1, 2016, ANY employee in the US, exclusive of live-in domestics, who earns less than $913 for a 40 hour week ($22.83/hour) MUST be paid hourly and MUST be paid overtime at the rate of 1.5 times the regular hourly wage for hours over 40 in a 7 day work week.
What types of nannies are entitled to overtime?
Bob King of Legally Nanny says, "Under most circumstances, live-in nannies are exempt from federal overtime. Live-out nannies must be paid overtime of 1.5 times their regular rate of pay for all hours worked above the 40 hours in a week. State laws may require weekly and even daily overtime as well." If you're not sure what your state law requires, click here for additional information.

What is the mandated overtime rate?
The federal minimum wage is $7.25 per hour. However, this rate will vary by state, counties and cities, many of them providing higher minimum wages. King says, "The required overtime rate under federal law is 1.5 times the [live out] nanny's regular hourly rate of pay, and the regular hourly rate of pay must be at least the minimum wage."


The importance of including overtime verbiage on employment contracts:
Employment agreements are incredibly important when it comes to working with a nanny. If you're unsure of what information should go into an employment contract, do your research before you start drafting. And when it comes to including overtime information, make sure to list the regular and overtime rates of pay on a per-hour basis. In addition, make sure that the agreements list when overtime applies under applicable state and federal laws.
Other important facts about paying your nanny overtime:
King says, "Overtime is very fact-specific. Whether or not a nanny is entitled to state and or federal overtime will depend on her job duties and other details of her job, such as whether she works in a private home and whether she lives in or lives out. There is no "one size fits all" determination regarding whether overtime applies." As the employer, you will need to analyze the working agreement, as it can vary from case to case.
Generally speaking, a nanny is required to be paid for all hours on duty - including "free time" if she is required to remain on the premises.
Live-in nannies are not required to be paid overtime under Federal Law - however many states have different rules and regulations and the regulation most advantageous to the worker must always be applied. A live-in nanny does not need to be paid for hours when she is relieved of responsibilities and free to leave the home to pursue her own activities - whether she chooses to remain in the home during that time or not.
HomeWork Solutions publishes state specific fact sheets on nanny overtime requirements that are free to download.

If you fail to pay overtime but were actually required to do so, this can be a very costly mistake. There can be hefty fines and other penalties that come with failure to pay overtime, so be sure that you are sure that you have the facts correct from the get go. Plan ahead and work with a household payroll specialist from the beginning in order to help you avoid expensive errors.
A special thank you to Bob King, Esq., owner of Legally Nanny. California based Legally Nanny® is the leading law firm representing household employers and domestic employment and homecare agencies.