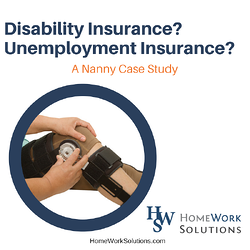 Good Morning,
My name is Nanny X and I worked for the Smith family last year. I was laid off at the end of November when they moved their child to a full time daycare. I filed for unemployment and began receiving benefits before Christmas.
In early January I needed emergency surgery. There were complications and I ended up spending 8 days in the hospital and another 3 weeks in a rehab center. The state stopped paying my benefits, and says I can only re-apply to receive benefits when I am available and able to work.
Can you help? I have missed 5 weeks of benefits and don't know how I am going to be able to pay the rent.
Thank you,
Nanny X
HomeWork Solutions received the email above a few weeks ago from a client's former employee. She was upset and just plain panicked by her loss of unemployment benefits following her surgery. Unfortunately there was very little we could do to help her. Here is why.
Unemployment Insurance v. Disability Insurance
Unemployment insurance benefits and disability insurance benefits are two very different things. Unemployment benefits are available when you suffer a job loss through no fault of your own (as Nanny X did). To receive benefits you must be able to and available for work during any week for which you claim benefits. In short, this means that, during the week, you must have been willing, ready and able to accept a suitable job. Many states also require you to apply for a certain number of jobs every week for continued benefits.
Nanny X, unfortunately, was unable to work while she was hospitalized for surgery and then for the period of time she was in a rehabilitation facility. Her medical team expects she will need an additional 2 - 4 weeks of recovery at home before she is cleared to return to work. The state unemployment office looks at this and rightly concludes that Nanny X was not able to work, and suspended her benefits payments.
Disability insurance provides lost income when you are unable to work due to a medical condition. Some states require that employers provide disability insurance or have a state program funded by wage taxes that provides the insurance. If you are a nanny in California, New Jersey or New York you are generally covered. AFLAC, with the famous talking duck in its commercials, is a private disability insurance provider. Unfortunately it is exceptionally rare for a household employer, or a household employee, to carry private disability insurance when not required by law.
Related Articles:
Case Study: Paying the Nanny off the Books