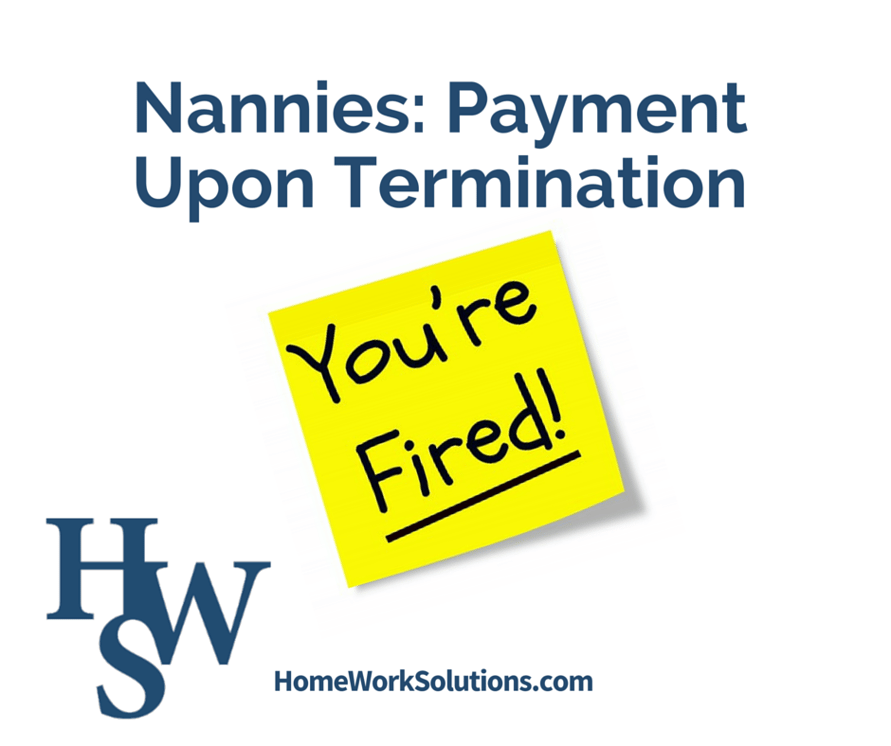 The very challenging economic climate we find ourselves in has some predictable effects on nanny payroll. Many nanny employers, when faced with a job loss or income reduction, need to take immediate steps to change their household expenses, and firing the nanny is often an unfortunate consequence.

When the employee (nanny) is involuntarily discharged, the timing of final wage payments is governed by state law. California for example requires that the discharged nanny be paid all wages due immediately at the time and place of discharge. The District of Columbia, Illinois and New York (and many other states) require that all wages to the discharged nanny be paid no later than the next business day.
Many employers (and the terminated employee) overlook important details in the stress of the moment. The following are some recommended best practices at the time of termination:
Try to deliver the news in a private, neutral setting without the children present. People do not always react well to an involuntary discharge - there may be tears, anger, or any manner of emotional response - from either one of you!
Have the employee's final paycheck available at the time of the discussion. At a minimum this should include wages through the date of discharge. Many families add an additional severance payment - this is discretionary under U.S. law, but may be obligated under your work agreement. If you utilize a payroll company, call them first. Their staff will help you calculate the amount of the final payroll and wrap up the administrative details.
Many discharged nannies are losing their job due to circumstances totally unrelated to their performance. Have a suitable letter of recommendation prepared and provide to the nanny; offer to provide a telephone reference to any prospective employer.
Many nannies have employer property, especially household keys, car seats and strollers in their possession. The return of this property should be dealt with at this time.
Provide the discharged nanny with information on how to file an unemployment insurance claim - these notices to employees are available to download from your state's Department of Labor website.
Consider having a formal "Employee Final Release" document, or separation agreement, prepared for both of your signatures. This document should include the family and the nanny's name, the date of separation, and a release of claims by both parties (employee to wages, employer to 'company' property returned). Legally Nanny is a reputable resource for professional assistance in drafting this document.
Review your confidentiality agreement. A well written agreement survives the employment relationship and this is the appropriate time to point that out.
My final advice is to follow the Golden Rule. A nanny who has provided good and faithful service to your family and is undoubtedly very attached to your children should be afforded the opportunity to say her good byes. This may be at a future date however, depending on the nanny's emotional state. Coming by the following weekend to share a pizza with the children may be a better option to an immediate leave taking, allowing everyone involved to regain their composure and keep the children's needs as the primary consideration.
Resources:
Nanny Fired: When are last wage payments due?