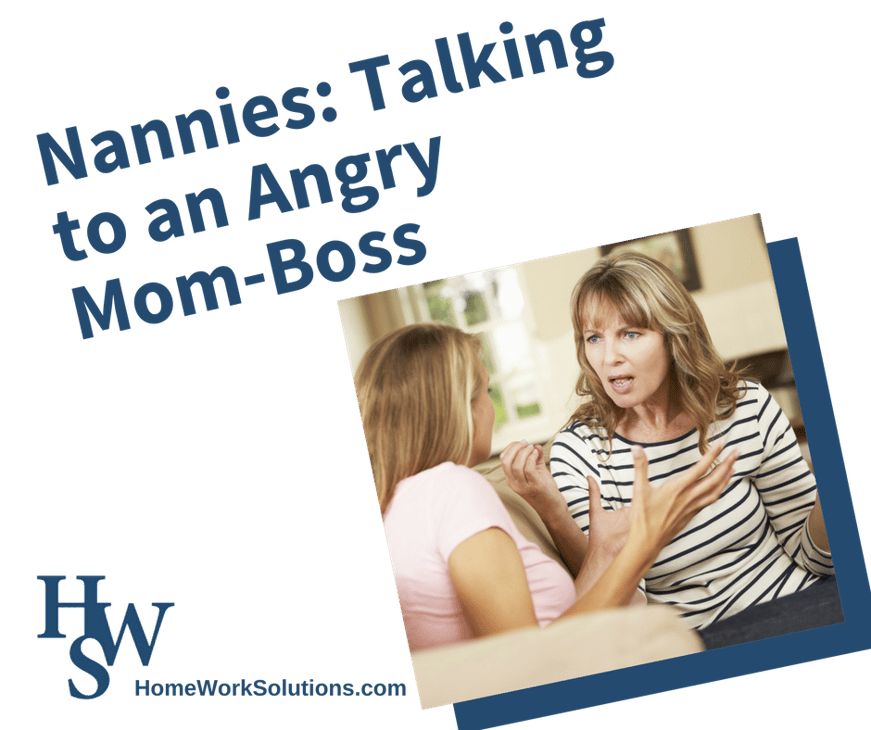 Confrontation is not always easy, but as a nanny, you may face it at some point with a parent of the children you're watching. This can be an awkward time – especially if the parent is very angry or disgruntled. However, talking to an upset parent doesn't have to be a problem, but rather a challenge that can be overcome. Here are some tips on how to deal with an upset mom or dad.
Tip #1: Plan a child-free meeting with the parent.
If there is an issue, always meet with your employer directly to talk it out. Face to face is best, and ideally there is not a child-care component involved in this meeting. Resist the temptation to text or use other electronic communication - talk it out! Start this meeting out cordially, and be sure your words and body language communicate a willingness to listen and try and find a solution.
If you need to organize your thoughts beforehand, it's ok to come to the meeting with some notes on what you want to discuss. After the meeting is over, summarize some of the points that you discussed with one another and email them directly to the parent. This will ensure that you have something in writing, should you ever need it later down the road.
Tip #2: Strive to identify a clear solution.
The parent may be visibly upset about something, but after you listen to her explanation of the initial frustration, ask them directly what solution they would like to see and how you can help. Parents often need to express their feelings on the situation and want to be heard, but more importantly they usually want to put in a plan of action to ensure that the problem does not occur again. So, work with them on steps that you can take together to create a solution that works for everyone. Try to keep in mind that the parent is trying to do what they know is best for their child and you should have the child's best interest in mind as well. Do avoid becoming angry or defensive; when your emotion becomes part of the equation, you risk the conversation becoming a power play, one you are not likely to win!
Consider taking some notes about the conversation. This clearly conveys to the parent that your are listening and that you want to maintain clarity.
Tip #3: Express your side.
After listening to the parent express their concern, frustration, or anger, hold firm to your side in regards to ethics and legality. If you cannot find a solution or they are unwilling to listen to what you have to say, it may be best to part ways and determine that it is not a good fit to work together.
Often conflict between the parent and nanny is easily resolved when gaps in knowledge are filled. Often a parent who listens to the child may only have part of the story, or the child simply interpreted an innocuous event through their frame of reference, and the innocent appears quite sketchy. If tempers are escallating, consider taking a short break. Excuse yourself to use the restroom, or suggest you make a pot of coffee and allow a few moments of cooling off.
Remember, you both want to find a
logical
solution, and you and the parent must be calm before a logical approach will work.
Tip #4: Irreconciable Differences
No one loves conflict with an employer and even if you determine that the working relationship needs to come to an end, do what you can to part ways the best method possible. Don't leave in anger or burn bridges. You want to maintain a positive reputation for yourself and your childcare services as best as you can. This will allow you to head into another job with confidence.
Related Articles
How Moms and Nannies Can Recover from a Disagreement