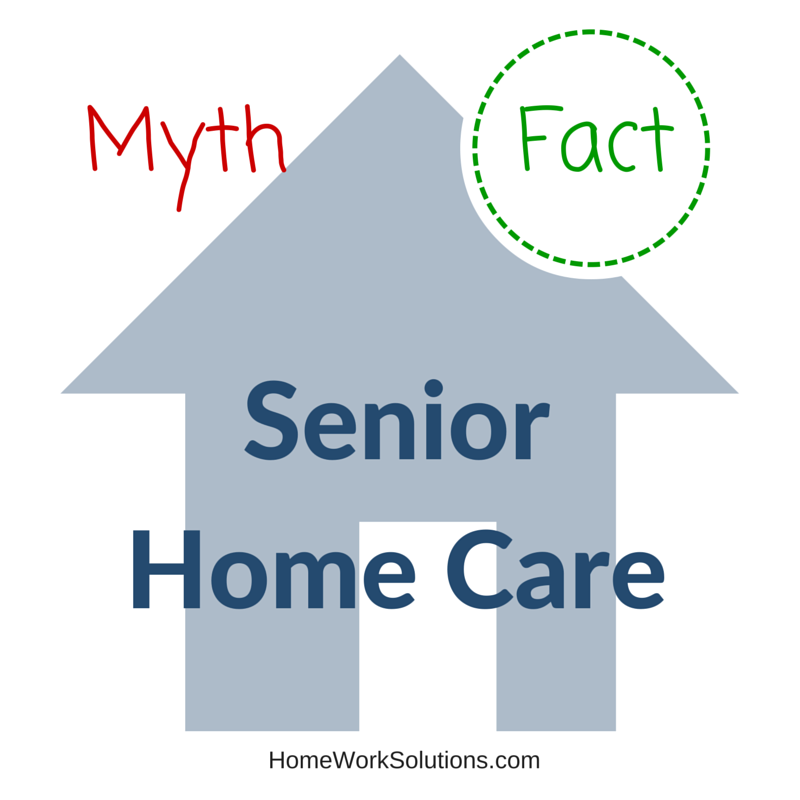 Providing Senior care at home for yourself or a loved one can be an overwhelming process that is full of emotion and a variety of big decisions. As you do your research, you may run into conflicting information or myths that are out there regarding senior care. So, how do you know that you're making the right choice? For many seniors, it is beneficial to have them stay in their home in their own surroundings, rather than uprooting them to a new environment. For these people, senior home care can be the perfect answer. How do you know what information accurate and what's not?
Myth #1: I will lose my independence if I get a caregiver.
Actually, the opposite is true. Elderly individuals that live at home alone are prone to falls and other problems. Having reliable senior home care is a tool for retaining independence and maintaining a better quality of life. Among those age 65 and older, falls are the leading cause of injury death, according to the Centers for Disease Control and Prevention (CDC). In addition, a senior caregiver can serve as a second set of eyes and ears to help keep seniors safer at home. A caregiver also can transport seniors to special events, doctor appoints or even just the grocery store, which can help decrease isolation.
Myth #2: I can hire my senior caregiver as an independent contractor and just give them a 1099 at the end of the year.
If you pay a senior caregiver more than $40 a week, there is a very good chance that the law considers your caregiver an employee. As an employer you have a responsibility to follow all applicable labor laws and regulations. These include paying FICA, accurately tracking hours worked, paying overtime, and obtaining workers compensation insurance to protect you and the senior caregiver in the event of an on-the-job injury. If you don't follow these laws, it can be a costly mistake leading to back tax payments and costly penalties.
Myth #3: In-home senior care is only for the very ill.
This myth is better broken down into some more detailed information about the types of senior home care that is available: medical and non-medical.
Medical senior home care is for elderly individuals who not only need help with regular daily activities around the house, but also those that are ill and need help managing chronic illness, medications, sickness, or disease.
Non-medical senior home care will include personal care, homemaking services, or simple companionship services by caregivers which benefits many seniors that are frail but otherwise healthy. This type of home care often revolves around the activities of daily living (ADLs) such as eating, dressing, and bathing, or other instrumental duties such as driving, shopping and doing housework. Equally important, non-medical senior home care is actually more affordable for seniors than institutional care.
Senior home care can be a wonderful option for senior citizens looking to age in the comfort of their own homes. According to a recent AARP survey, 90% of seniors aged 65 and older strongly prefer to age in place. There are a lot of misconceptions about this topic, so doing your research is important. Finding the truth about senior home care is equally as important as finding a trusted caregiver.