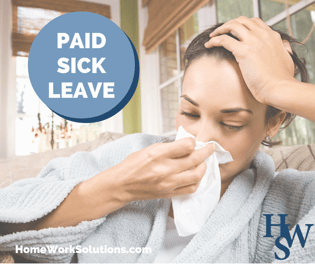 Paid sick leave is an important benefit of any job. Nannies or senior caregivers often show up for work when they are ill because they cannot afford to miss a days' pay. People in these professions will be glad to hear that the Montgomery County (MD) Council recently joined other localities in providing paid sick leave as a mandated employee benefit after a unanimous vote. (1) It will work as a tiered-system that would provide four days paid sick leave and three days of unpaid leave for employers that have 5 or fewer employees.
The bill goes into effect on October 1, 2016. Household employers will be required to give a minimum of one paid hour of time off for every 30 hours worked up to 32 hours of paid leave per year. (2) Obviously record keeping will be a key to accurate administration of the paid sick leave. The bill won't change anything for full time employees that are already receiving at least 56 hours of paid leave of any kind. Therefore, household employers who offer 7 or more flexible paid days off would be relieved of the sick leave record keeping.
Earlier this year, President Obama addressed paid sick and family leave in his State of the Union address, and the development of this law takes a step in this direction, with the goal that other state lawmakers will follow suit with similar mandates as well. So far, there are a couple of localities in California and Oregon as well as the District of Columbia that have outlined similar paid sick leave measures.
Are you a household employer that has fewer than 5 employees? Not sure how these types of paid sick leave laws will affect you? Contact us for more information on what this means for you and your specific situation.
Turque, Bill. "Montgomery County Joins Other Localities Providing Paid Sick Leave." Washington Post. June 23, 2015. Accessed August 13, 2015. http://www.washingtonpost.com/local/md-politics/montgomery-county-joins-other-localities-providing-paid-sick-leave/2015/06/23/6af506d0-19e1-11e5-ab92-c75ae6ab94b5_story.html
Kraut, Aaron. "5 Key Facts About Montgomery County's New Paid Sick Leave Law." Bethesda Magazine. June 23, 2015. Accessed August 13, 2015. http://www.bethesdamagazine.com/Bethesda-Beat/2015/5-Key-Facts-About-Montgomery-Countys-New-Paid-Sick-Leave-Law/